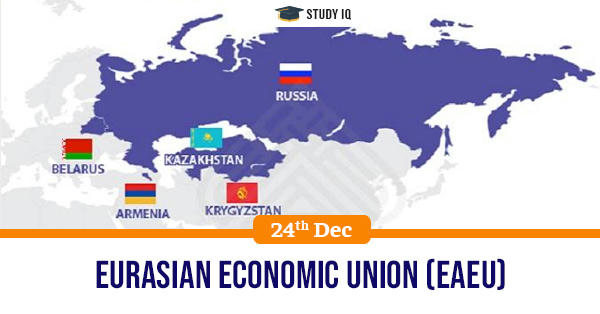 Eurasian Economic Union (EAEU)
Date: 24 December 2019
Tags: India & World
Issue
Russia is looking forward to India concluding a new Free Trade Agreement with the Eurasian Economic Union (EAEU).
Background
Russia is trying to include India in its plan for having a multi-continental grouping that includes countries from both Europe and Asia.
Details
The Eurasian Economic Union (EAEU) is an economic union of states located in central and northern Asia and Eastern Europe.

The Treaty on the Eurasian Economic Union was signed on 29 May 2014 by the leaders of Belarus, Kazakhstan and Russia, and came into force on 1 January 2015.

The EAEU encourages the free movement of goods, services and provides for common policies in the macroeconomic sphere, transport, industry and agriculture, energy, foreign trade and investment, customs, technical regulation, competition and antitrust regulation.

Provisions for a single currency and greater integration are envisioned in future. The union operates through supranational and intergovernmental institutions.

The Eurasian Economic Union is located at the eastern end of Europe, bounded by the Arctic in the north, the Pacific Ocean to the east and East Asia, the Middle East and part of Central Asia to the south.
Member countries
Armenia, Belarus, Kazakhstan, Kyrgyzstan and Russia.