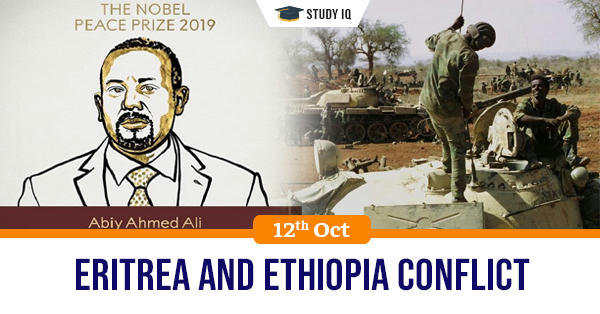 Eritrea and Ethiopia conflict
Date: 12 October 2019
Tags: India & World
Issue
Ethiopian Prime Minister Abiy Ahmed Ali has been awarded the 2019 Nobel Peace Prize for his important work to promote reconciliation and solidarity with Eritrea.
Background
Abiy initiated reforms and held peace talks with the Eritrean president to suspend the war between the two countries, taking place since past 20 years.
Ethiopia and Eritrea dispute
Eritrea, once an Italian colony, was merged with Ethiopia in 1936 during Benito Mussolini's regime, and then taken over by the British during the Second World War.

After the War, a United Nations declaration in 1950 made Eritrea part of a federation with Ethiopia.

When Eritrean groups launched a struggle for independence in 1961, Ethiopia dissolved the federation and annexed Eritrea in 1962.

After a war that lasted 30 years, Eritrea gained international recognition as an independent country in 1993.

At the end of the war, Ethiopia held all of the disputed territory and had advanced into Eritrea.

After the war ended, the Eritrea–Ethiopia Boundary Commission, a body founded by the UN, established that Badme, the disputed territory at the heart of the conflict, belongs to Eritrea.

On 5 June 2018, the ruling coalition of Ethiopia (Ethiopian People's Revolutionary Democratic Front), headed by Prime Minister Abiy Ahmed, agreed to fully implement the peace treaty signed with Eritrea in 2000,with peace declared by both parties in July 2018.
Ethiopia
Ethiopia is Africa's second largest country by population, but landlocked, while tiny Eritrea is connecting by sea to the Middle East.

Through the years of conflict, Ethiopia had depended heavily on Djibouti for access to the Gulf of Aden and onward to the Arabian Sea.

The peace deal opened up Eritrean ports for Ethiopian use, thereby providing a boost to economic development.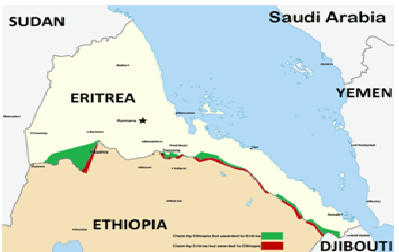 Eritrea
Eritrea is a northeast African country on the Red Sea coast. It shares borders with Ethiopia, Sudan and Djibouti. The capital city is Asmara.