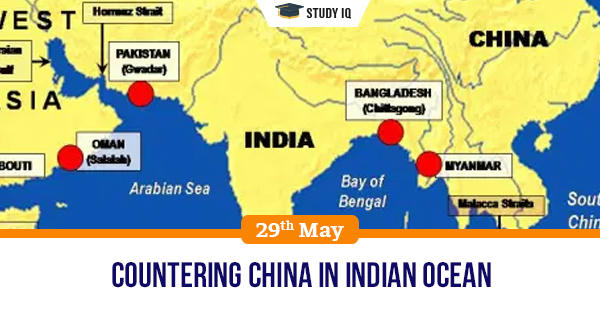 Countering China in Indian ocean
Date: 29 May 2020
Tags: India & World
Issue
The U.S. and India must develop a plan to counter a possible effort by China to strengthen its position in the Indian Ocean by deepening ties with Pakistan and Sri Lanka by taking advantage of their economic woes due to the coronavirus pandemic, an American think-tank has said.
Background
The coronavirus pandemic threatens not only lives and livelihoods in South Asia but it could also be the precursor of significant political and strategic shifts in the region.
Details
There have been considerable concerns in India over China's growing presence in the Indian Ocean region. India has been trying to expand maritime cooperation with countries of the region including Sri Lanka, Maldives, Indonesia, Thailand, Vietnam, Myanmar and Singapore, primarily with an aim to check the growing Chinese assertiveness.

The Bangladesh and Indian economies will survive the devastation caused by COVID-19 pandemic, but their governments will have to restore growth by protecting and encouraging investment.

Pakistan and Sri Lanka will likely move in the direction of negative growth and will need debt relief from their international creditors. Without it, Sri Lanka faces the prospect of a sovereign debt default. Both countries are likely to look to China as their benefactor, as their leaders have tended to do for a while.

China will most likely press its advantage by bailing out South Asia's indebted governments, in exchange for strategic dominance.

This would come at the expense of India's security and US influence in the region. India and the United States must develop a plan to counter efforts China will likely make to strengthen its position in the Indian Ocean by deepening ties with Pakistan and Sri Lanka.

Pakistan and Sri Lanka have been a target of Beijing's ambitious Belt and Road (BRI) scheme, criticised for creating 'debt traps' by burdening fiscally weak countries with unsustainable debt.

Earlier this month, China inked a $ 5.8 billion deal with Islamabad to build a dam in Gilgit-Baltistan, a move strongly opposed by India which said that carrying out such projects in territories under Pakistan's illegal occupation was not proper.

India's initiative to develop a regional response to the threat posed by COVID-19 has been undermined by Pakistan's insistence on raising the Kashmir issue even in this challenging time.

International pressure, especially Financial Action Task Force (FATF) gray-list sanctions targeting Pakistan, might be needed to restrain the worst anti-Indian impulses of its civil and military leader.

In the past, Pakistan has used natural disasters to expand terrorist infiltrations into Kashmir and India. Indian officials are concerned that Pakistan could use the COVID-19 crisis as a distraction to do the same.