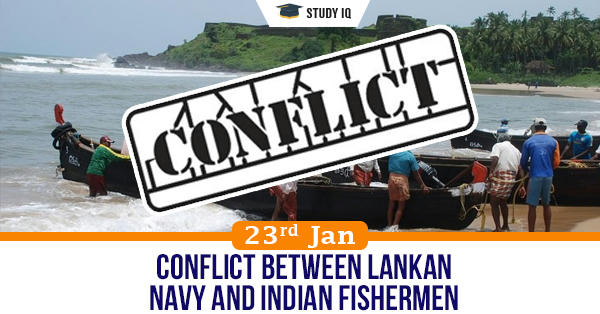 Conflict between Lankan navy and Indian fishermen
Date: 23 January 2021
Tags: India & World
Issue
The recovery of bodies washed ashore in Sri Lanka has triggered protests in Tamil Nadu as they are believed to be of the four fishermen reported missing from the state.
Background
The latest incident has once again brought to fore the long-standing conflict between Indian fishermen and the Sri Lankan navy.
Details
The reasons behind the conflict are mainly proliferation of trawlers in Tamil Nadu coast and plummeting resources in Gulf of Mannar in the Indian ocean.

Fishermen from Rameswaram and nearby coasts continue to sail towards Talaimannar and Katchatheevu coasts, a region famous for rich maritime resources in Sri Lanka.

Plenty of catch in this oceanic region had triggered a proliferation of fishing trawlers in Tamil Nadu coast in the past three decades.

There were many favourable reasons too for Indian fishermen as their access to Sri Lankan waters was easier at the time of Sri Lankan civil war.

Indian trawlers continued to routinely enter Lankan waters for fishing. There were very few incidents of arrests of Indian fishermen in the nearly 30 years of war.

Absence of poor Tamil fishermen of Sri Lanka due to the war also favoured fishing by Indian trawlers.

After the end of civil war, arrests and attacks increased on Indian fishermen as they continued entering Lankan waters because of depletion of marine resources on the Indian side.
Katchatheevu Island
In 1974, the island was ceded to Sri Lanka after an agreement was signed by Indira Gandhi between the two countries without consulting the Tamil Nadu government.

The agreement allows Indian fishermen access to Katchatheevu for rest, for drying of nests and for the annual St Anthony's festival but it did not ensure the traditional fishing rights.
Trawlers boat
Trawlers are mechanised boats with highly exploitative fishing nets unlike most of the poor fishermen in Sri Lankan coast who use traditional fishing methods.

Costly trawlers often return with huge losses due to plummeting resources and restrictions on Sri Lankan waters. While each trip costs about Rs 40,000 per boat, profit varies depending on the catch.

Maritime resources have disappeared hugely over the years due to highly exploitative fishing methods of trawlers.