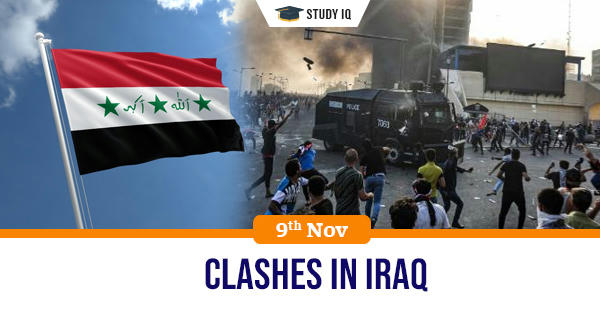 Clashes in Iraq
Date: 09 November 2019
Tags: India & World
Issue
Fresh clashes between Iraqi security forces and anti-government protesters broke out, killing at least three people and marking arrival of new crisis in the middle-eastern country.
Background
More than 280 people have been killed since the protests over unemployment, poor services and endemic corruption began in Baghdad on Oct. 1 and quickly spread to southern provinces.
Details
The demonstrators, mostly unemployed youths, demand an overhaul of the political system and a corrupt ruling class which has dominated state institutions since the U.S.-led overthrow of Saddam Hussein in 2003.

Officials and analysts fear that militants could exploit unrest to sow more chaos in Iraq, which has suffered decades of conflict, sanctions and corrupt governance.

Government handouts for the poor, promises to prosecute corrupt officials and create more job opportunities for graduates have failed to calm protesters, whose demands include a new electoral system and the removal of all current political leaders.

The protesters also reject foreign interference in Iraq, which has long been caught between its two main allies and bitter rivals, the United States and Iran.

Public anger has been directed particularly towards Iran, which supports the parties and paramilitary groups that dominate the Baghdad government and state institutions.
Iraq
Iraq, officially the Republic of Iraq, is a country in Western Asia, bordered by Turkey to the north, Iran to the east, Kuwait to the southeast, Saudi Arabia to the south, Jordan to the southwest and Syria to the west.

The capital, and largest city, is Baghdad.

President: Barham Salih

Prime Minister: Adil Abdul-Mahdi

Currency: Iraqi Dinar