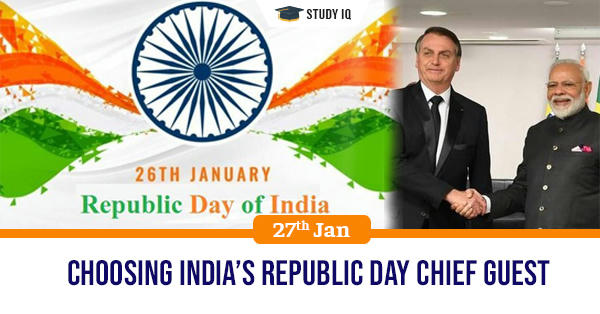 Choosing India's Republic Day Chief guest
Date: 27 January 2020
Tags: India & World
Issue
Brazilian President Jair Bolsonaro is the chief guest at India's Republic Day celebrations .This will be the third occasion that a Brazilian leader will be the chief guest at the Republic Day.
Background
The Chief Guest at the Republic Day parade is accorded India's highest honour in protocol terms. The process of extending the invitation to a Head of State or Government starts around six months ahead of Republic Day.
Details
For choosing a guest, the Ministry of External Affairs (MEA) considers several issues, most importantly the nature of India's relationship with the country concerned.

The MEA considers, political and economic relations, commercial relations, and military cooperation, and the strong emotional attachment with the Non Aligned Movement (NAM).

The Prime Minister's approval is sought, followed by a clearance from the Rashtrapati Bhavan. India's ambassadors in the countries concerned then try to ascertain discreetly the potential chief guests' programme and availability for Republic Day.

The Indian Chief of Protocol (CoP) and his counterpart in the concerned country work out a detailed plan chalking out the logistics, security, and medical requirements of the programmes as the ministry works towards agreements between the two nations.

It is also learnt that the chief guest is also decided on the basis of the other country's interest and availability of the dignitary.

Apart from the main event of reviewing the Republic Day parade with the President of India, the Chief Guest's visit includes the ceremonial guard of honour at Rashtrapati Bhavan, an evening reception hosted by the President, laying of a wreath at Rajghat, a banquet in the Chief Guest's honour, a lunch hosted by the Prime Minister, and calls by the Vice-President and the External Affairs Minister.