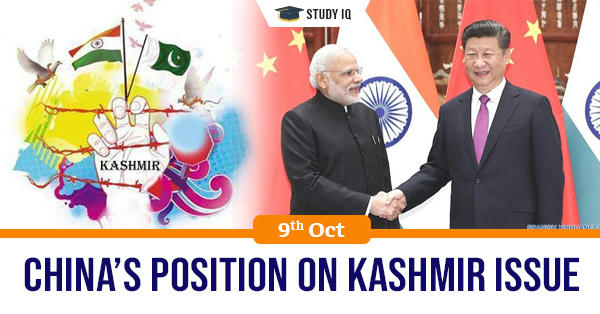 China's position on Kashmir issue
Date: 09 October 2019
Tags: India & World
Issue
Ahead of Chinese President Xi Jinping's visit to India and Nepal, Beijing has dropped references to the role of the United Nations in resolving the Kashmir issue.
Background
The statement is a departure from the recent position adopted by Beijing after India revoked Article 370. China had backed Islamabad to internationalise the Kashmir issue at the United Nations.
Details
The authorities have said that a dispute left from the past should be peacefully and properly addressed in accordance with the UN Charter, Security Council resolutions and bilateral agreement without the need of a third party.

China is giving the impression that it can be flexible. It has called upon both India and Pakistan to engage in dialogue and consultation on all issues including Kashmir issue and consolidate mutual trust.

If China tries to project itself as a mediator between India and Pakistan, it is unlikely to be heard by the Indian side.

China is also vary of implications of becoming too close to Pakistan. CPEC investments would become a lot riskier if the Paris-based Financial Action Task Force (FATF) decides to censure Pakistan, which is likely in the coming days.

This is going to cause a dent in China's pursuit of showing itself as a global player, who is ready to play a major role in global leadership.

It is difficult for China to reduce its involvement in Pakistan. Pakistan helps expand Chinese influence in the Muslim world and in Afghanistan.