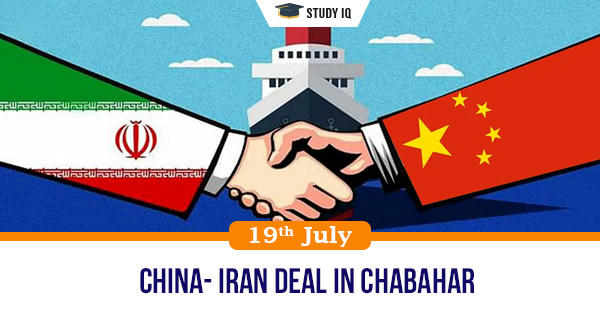 China- Iran deal in Chabahar
Date: 19 July 2020
Tags: India & World
Issue
China and Iran are close to sealing an ambitious deal on an economic and security partnership, a move that has caught the attention of policymakers in India and across the world.
Background
The seeds were sown during Chinese President Xi Jinping's visit to Iran in January 2016, when the two sides agreed to establish ties based on a Comprehensive Strategic Partnership.
Details
The draft agreement shows it will facilitate the infusion of about $280 billion from Beijing, which wants to buy oil from cash-strapped Iran.

China will also invest $120 billion into Iran's transport and manufacturing infrastructure, thus giving it inroads into major sectors in Iran including banking, telecommunications, ports, and railways.

As countries with historical contacts, Iran and China view each other as successor states to civilisational empires. Both share a sense of past humiliation in the hands of foreign players.

While India watches China with concern, what is alarming for New Delhi is that Beijing is also concluding a security and military partnership with Tehran.

It calls for joint training and exercises, joint research and weapons development, and intelligence sharing to fight the lopsided battle with terrorism, drug and human trafficking and cross-border crimes.

Initial reports in Iran have suggested China will deploy 5,000 security personnel to protect its projects in Iran. Some reports suggest Kish Island in the Persian Gulf, located at the mouth of the Strait of Hormuz, maybe "sold" to China.

With a growing Chinese presence in Iran, India is concerned about its strategic stakes around the Chabahar port project that it has been developing, and for which it committed Rs 100 crore in the last Budget.

The port is close to Gwadar port in Pakistan, which is being developed by China as part of its China-Pakistan Economic Corridor that links it to the Indian Ocean through BRI.

India's pace in developing the project has been slow due to US sanctions. That has made Iran impatient and last week, it decided to start work on the Chabahar-Zahedan railway.

While India got a waiver from US sanctions for the development of the port on the grounds that it will help access Afghanistan bypassing Pakistan but it is still not clear whether railway and other projects are exempt from sanctions.

India's dilemma also stems from the fact that robust support from the US is essential when it is locked in a border stand-off with China.

India may want to wait for the results of the November US election. If Joe Biden comes back to power, there may be no threat of sanctions but if Trump is re-elected, India may prefer a long-term, strategic decision before continuing with the railway project.