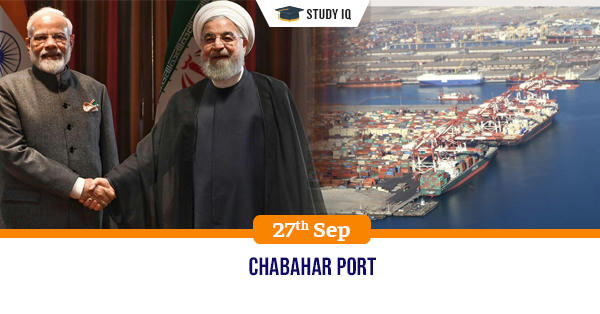 Chabahar port
Date: 27 September 2019
Tags: India & World
Issue
Prime Minister Narendra Modi and Iranian President Hassan Rouhani met and discussed progress on Iran's Chabahar Port , which India is helping to develop.
Background
The meeting comes at a difficult time in the relationship between the two countries. India has stopped orders for Iranian oil since May 2 following U.S. sanctions ,after US pulled out of the Joint Comprehensive Plan of Action (JCPOA).
Details
European countries, such as France and Germany had hoped to arrange a meeting between Mr. Rouhani and U.S. President Donald Trump in order to remove the existing deadlock between the two countries.
Chabahar
Iran's Chabahar port is a strategic project that would connect India, Afghanistan and Iran to Central Asia, while circumventing Pakistan.
Benefits of Chabahar to India
Operating Chabahar port will provide India with a foothold at the mouth of the strategic Straits of Hormuz, through which a third of all the world's sea-borne oil passes.

India's participation in the Chabahar port project would enable it to keep an eye on Chinese activity at Gwadar, which is just 72 kilometers away.

India's investment, development, and operation of Chabahar port will strengthen its relationship with Iran, its third largest oil supplier.

This trade corridor could expand India's trade ties with the Central Asian Republics (CARs), which currently stands at a meager $1.5 billion.

Once Chabahar is linked to the multimodal International North-South Transport Corridor (INSTC), India hopes it will become a gateway for its trade with Eurasia as well.
JCPOA
The Joint Comprehensive Plan of Action, known commonly as the Iran nuclear deal or Iran deal, is an agreement on the Iranian nuclear program reached in Vienna on July 14, 2015, between Iran and the P5+1(China, France, Germany, Russia, United Kingdom, USA) together with the European Union.