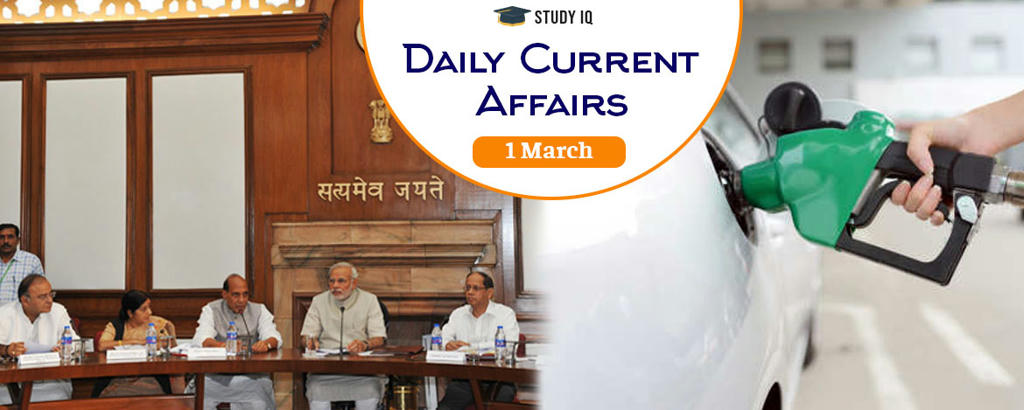 Cabinet approves India's participation in IEA Bioenergy TCP
Date: 01 March 2019
Tags: India & World, International Organizations
Union Cabinet has approved India's participation in International Energy Agency's Technology Collaboration Programme on Bioenergy (IEA Bioenergy TCP) as its 25th member. India will be represented Union Ministry of Petroleum & Natural Gas. It will facilitate market introduction of advanced biofuels in India with an aim to bring down emissions and reduce crude imports
IEA Bioenergy TCP
It is international platform aimed at improving cooperation and information exchange between member countries that have national programmes in bioenergy research, development and deployment.

It works under framework of International Energy Agency (IEA) to which India has "Association" status (since March, 2017).

It provides platform for international collaboration and information exchange in bioenergy research, technology development, demonstration and policy analysis.

This is done with focus on overcoming environmental, institutional, technological, social, and market barriers to near-and long-term deployment of bioenergy technologies.

R&D work in IEA Bioenergy TCP

: It is carried out carried out within well-defined 3-years programmes called "Tasks".

Each year progress of Tasks is evaluated and scrutinized and each 3 years content of Tasks is reformulated and new Tasks can be initiated.
Benefits to India
It will facilitate exchange of information about best practices, network of researchers and linking research with practical implementation in field of bioenergy.

It will result in shared costs and pooled technical resources. It will avoid duplication of efforts and strengthen national Research and Development capabilities.

It will help to bring suitable policy ecosystem in India by engaging with international agencies fir developments in biofuel sector.

It will India to participate in other related tasks focussing on Biogas, solid waste management, Biorefining etc.
IEA
It is Paris based inter-governmental organization that works to ensure reliable, affordable and clean energy for its 30 member countries and 8 association countries.

Its mission is guided by four main areas ("4Es") of focus: energy security, economic development, environmental awareness (focused on mitigating climate change) and engagement worldwide.