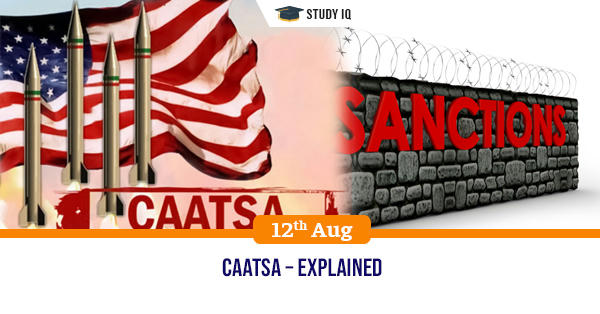 CAATSA – Explained
Date: 12 August 2019
Tags: India & World
Issue
S-400 Surface to Air Missile system from Russia was delivered to Turkey last month.

As a result, the US cancelled delivery of 100 5th generation F-35 Lighting fighter aircraft, ordered by Turkey under CAATS
Background
The Countering American Adversaries Through Sanctions Act (CAATSA) is a US policy that imposes sanctions on countries which are perceived as threats to USA.

This act at present is applicable to North Korea, Russia and Iran. Any other country having trade or defense relation with designated countries is also likely to face sanctions under CAATSA.
How CAATSA works
The CAATSA law empowers US president to designate any country or individual as a threat to US or international order and impose sanctions on them.

Once CAATSA has been applied the entities cease to enjoy American cooperation on international forum, thereby crippling them both economically as well as politically.
Provisions under CAATSA
Countering Iran's Destabilizing Activities Act of 2017
This bill directs the President to impose sanctions against: (1) Iran's ballistic missile or weapons of mass destruction programs, (2) the sale or transfer to Iran of military equipment or the provision of related technical or financial assistance, and (3) Iran's Islamic Revolutionary Guard Corps and affiliated foreign persons.

The President may impose sanctions against persons responsible for violations of internationally recognized human rights committed against individuals in Iran.
The President may temporarily waive the imposition or continuation of sanctions under specified circumstances
Countering Russian Influence in Europe and Eurasia Act of 2017
The bill provides sanctions for activities concerning: (1) cyber security, (2) crude oil projects, (3) financial institutions, (4) corruption, (5) human rights abuses, (6) evasion of sanctions, (7) transactions with Russian defense or intelligence sectors, (8) export pipelines, (9) privatization of state-owned assets by government officials, and (10) arms transfers to Syria.
Korean Interdiction and Modernization of Sanctions Act
U.S. financial institutions shall not establish or maintain correspondent accounts used by foreign financial institutions to provide indirect financial services to North Korea.

A foreign government that provides to or receives from North Korea a defense article or service is prohibited from receiving certain types of U.S. foreign assistance.

The bill provides sanctions against: (1) North Korean cargo and shipping, (2) goods produced in whole or part by North Korean convict or forced labor, and (3) foreign persons that employ North Korean forced laborers.
CAATSA's implications on India
India is purchasing the Russia S-400 SAM systems, putting it in conflict with the US Countering America's Adversaries Through Sanctions Act (Caatsa), which came into force in 2017. These third-country sanctions apply to any nation with 'significant transactions' with the Russian defense industry

.

India can face a downgraded version of US sanctions that can significantly dent its economic and defense relations with USA and its NATO allies.
Way Forward
In 2018, at the request of then-US secretary of defense James Mattis, the US Congress enacted a waiver clause that can be used by the president. This waiver was generally viewed as a workaround to avoid making India suffer collateral damage from Caatsa sanctions

.

Stopping any purchase of oil from US sanctions-hit Iran, India has shown its intent to build on newfound US-India relations.

It must be seen as an effort to repair Indo-US ties.

Because CAATSA is an American law that prevents global free trade, it is patently illegal and can be challenged. Nevertheless, if enforced it could choke the supply of weapons from Russia and blow a gaping hole in India's war fighting capability. It will also earn India considerable hostility in Moscow and drive the Russians closer to Pakistan and China, creating a different set of complications.