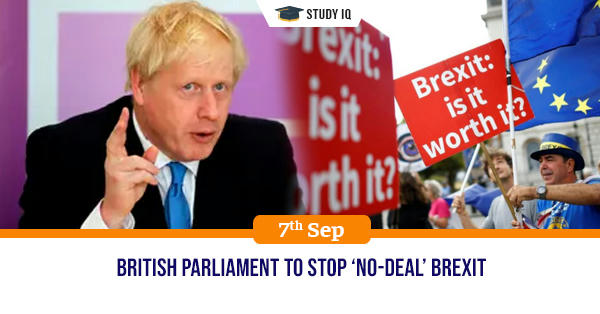 British Parliament to stop 'No-deal' Brexit
Date: 07 September 2019
Tags: India & World
Issue
The British Parliament's upper chamber has approved a bill that aims to block a no-deal Brexit at the end of October. This will force Prime Minister Boris Johnson to seek a delay to Britain's European Union departure.
Background
The British government was left in uncertaintyafter MPs voted to derail the Brexit plan and rejected PM's call for an early election to break the political deadlock.
Details
The Parliament approved a bill that could force Mr. Johnson to delay Brexit to January or even later if he cannot agree exit terms with European Union in time.

The legislation requires Mr. Johnson to ask for a three-month extension to Britain's EU membership if Parliament has not approved either a deal or consented to leaving without agreement by October 19. It is expected to be signed into law by Queen Elizabeth.

The default legal position is that Britain will leave the EU on October 31 unless it delays or asks to stay in the bloc.
Implications
The Bill will force British PM to go back on his 'No-deal' Brexit idea which was aimed at leaving EU as fast as possible even if suitable agreement has not been finalised.

The European Commission also said the risk of a "no deal" exit has increased. This is can lead to serious economic damage risked by severing 46 years of UK-EU ties overnight.