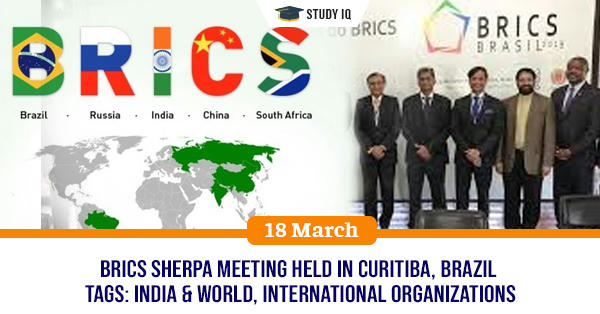 BRICS Sherpa meeting held in Curitiba, Brazil
Date: 18 March 2019
Tags: India & World, International Organizations
BRICS (Brazil-Russia-India-China-South Africa) Sherpa meeting was held at Curitiba, Brazil. It was for first time held under Presidency of Brazil. Indian delegation was led by T S Tirumurti Secretary, Economic Relations in Ministry of External Affairs.
Priorities of meeting
Brazil's priorities for its Presidency included science, technology and innovation, digital economy, New Development Bank and BRICS Business Council.

It also has identified countering terrorism as one of its priority areas for BRICS nations under its presidency.
India's support
It supports priority areas set by Brazil and in particular BRICS cooperation on counter terrorism in meaningful and concrete manner. It also underlined need to take forward people-to-people (P2P) cooperation and cooperation in Science & technology and innovation, health and traditional medicine.
What is Sherpa Meeting?
Sherpa is personal representative of head of state or government who prepares international summit (in this case BRICS summit). It is also held for G7 and G20 summits.

Between final leaders summits (of particular grouping), multiple sherpa conferences are held where possible agreements and agenda are laid out.

Sherpa meetings clears way for head of states at major summit. This reduces amount of time and resources required at negotiations of the heads of state at the final summit.

Sherpa are generally quite influential, but they do not have authority to make final decision about any given agreement.

Note:

The name Sherpa is derived from Sherpa people who are Nepalese ethnic group. They serve as guides and porters in Himalayas (especially during expeditions to peaks).
BRICS
It is association of five major emerging economies- Brazil, India, Russia, China and South Africa.

The term BRIC was coined in 2001 by Jim O'Neill, then-chairman of Goldman Sachs Asset Management in his publication Building Better Global Economic BRICs.

It was established in 2009 and first formal summit was held in Yekaterinburg, Russia in 2009. Originally it was known as BRIC before inclusion of South Africa in 2011.

Since then BRICS Leaders' Summit is convened annually with discussions representing spheres of political and socio-economic coordination. It is held

BRICS countries

: These five nations are known by their large, fast-growing economies and significant influence on regional and global affairs.

As of 2018, BRICS countries have combined nominal GDP of US$18.6 trillion (around 23.2% of gross world product), combined GDP (PPP) of around US$40.55 trillion (32% of World's GDP in terms PPP). BRICS countries are home to 42% of world's population (around 3 billion).