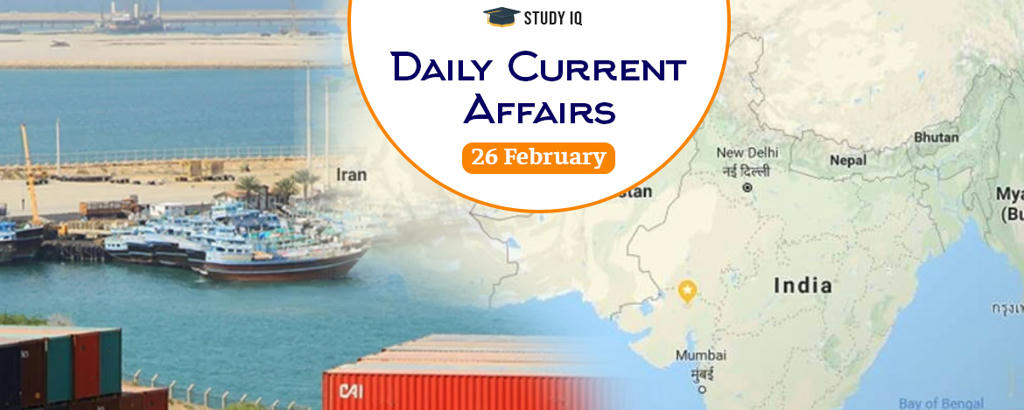 Afghanistan launches new export route via Iran's Chabahar Port
Date: 26 February 2019
Tags: India & World, International Events, Indian Foreign Policy
Landlocked Afghanistan has launched new export route that will allow it to export goods to India through Chabahar port in Iran. As part of it, first shipment of 570 tonnes goods comprising of dried fruits, textiles, carpets etc. in 23 trucks were dispatched from western Afghan city of Zaranj to Chabahar port. This consignment will be shipped to Indian city of Mumbai.
Zaranj-Chabahar route
It connects Afghanistan's national Highway 1 to Iranian border at Zarang (final Afghan town near Iran border crossing).

It turns into Iranian highway A-71 across border, which runs westward to Zabol. From Zabol, it is connected to Chabahar port by Iranian national highways 99 and 95.

India has invested in this route's major port facilities at Chabahar and additionally helped develop a road—Zaranj-Delaram highway. It also supported initial stages of railroad connect Chabahar to Iranian city of Zahedan.
Significance
It will help Afghanistan and India to bypass Pakistan (as Pakistan's borders with both India and Afghanistan are tightly controlled, with minor land-based trade between the countries).

It will help landlocked, war-torn Afghanistan to turn to overseas markets for exports to improve its economy. In long run it will give boost to regional connectivity.

It will contribute significantly for Afghanistan's economy and meet their needs of non-sanctionable goods such as food and medicines.
Background
India is Afghanistan's largest export destination and its exports to India stood at $740 million in 2018. Both countries had established air corridor in 2017 to boost the trade relations. US also granted exception to India for development of Chabahar port under the reimposed of sanctions on Iran after withdrawal from Joint Comprehensive Plan of Action (JCPOA). India had sent 1.1 million tonnes of wheat and 2,000 tonnes of lentils to Afghanistan through Chabahar.
Chabbar Port
It is strategically located in Sistan-Balochistan province on energy-rich Iran's southern coast in Gulf of Oman. It is less than 150km from Chinese built port of Gwadar in Pakistan. It is seen as golden gateway for India to access landlocked markets of Afghanistan and Central Asian markets bypassing Pakistan. India and Iran signed "historic" agreement for development of this port in May 2016. Shahid Beheshti port or phase 1 of Chabahar was made operational in February 2018.