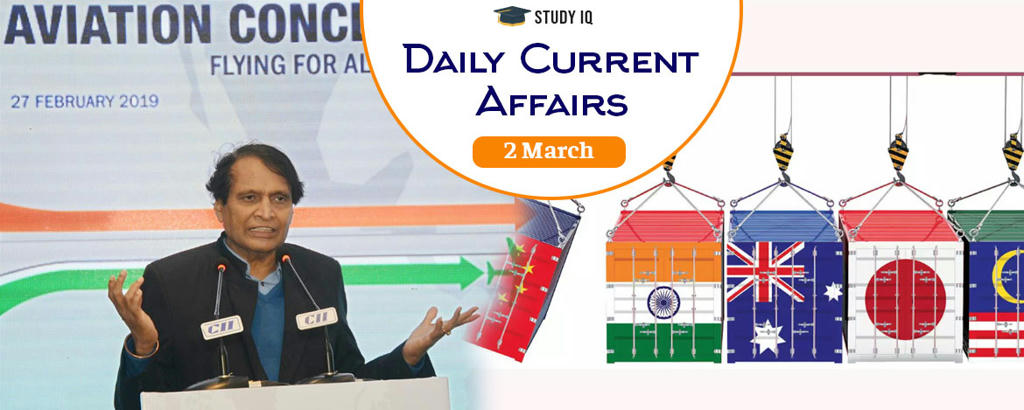 7th RCEP Intersessional Ministerial Meeting held in Cambodia
Date: 02 March 2019
Tags: India & World, International Organizations
The 7th Regional Comprehensive Economic Partnership (RCEP) Intersessional Ministerial Meeting recently concluded in Siem Reap, Cambodia. This meeting was chaired by Chutima Bunyapraphasara, Acting Minister of Commerce of Thailand. It saw participation of ministers from 16 RCEP Participating Countries (RPCs). India was represented by Union Minister of Commerce & Industry and Civil Aviation Suresh Prabhu.
Regional Comprehensive Economic Partnership (RCEP)
It is proposed free trade agreement (FTA) or comprehensive regional economic integration agreement between 10 ASEAN countries (Brunei, Indonesia, Cambodia, Laos, Myanmar, Malaysia, Philippines, Singapore, Thailand, Vietnam) and its six FTA partners (India, China, Australia, New Zealand, Japan and South Korea).

Its negotiations were formally launched at 2012 ASEAN Summit in Cambodia. It aims to cover goods, services, economic and technical cooperation, investments, competition and intellectual property rights under its ambit.

Once final deal is reached for RCEP, it will be world's largest economic bloc, covering nearly half of the global economy.

Its member states accounts for population of 3.4 billion people (45% of the world's population) with total GDP (in terms of PPP) of $49.5 trillion, approximately 38% of the world's and 29% of world trade.

It is viewed as alternative to the Trans-Pacific Partnership (TPP), a proposed trade agreement that includes several Asian and American nations but excludes China and India.