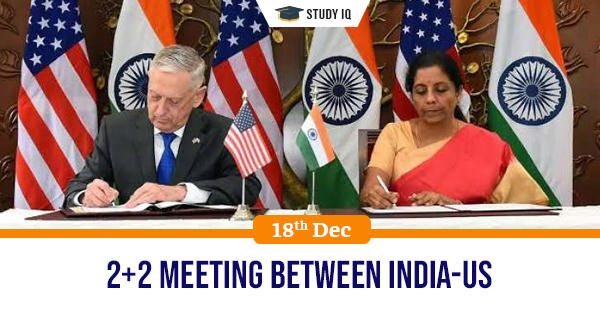 2+2 meeting between India-US
Date: 18 December 2019
Tags: India & World
Issue
Enhanced defence cooperation, furthering their Indo-Pacific strategy, and discussions on global challenges, including U.S. policy in Iran and Afghanistan, are likely to feature at the top of the agenda as India and US ready for second 2+2 combined ministerial meeting.
Background
The first 22 ministerial dialogue was held in New Delhi in September last year after the mechanism was approved by Prime Minister Narendra Modi and US President Donald Trump.
Details
On the defence front, the two sides are expected to sign the Industrial Security Annex (ISA) and review steps being taken to operationalise the foundational agreement Communications Compatibility and Security Agreement (COMCASA) which was signed during the previous 2+2 talks.

However, discussions on the last foundational agreement, Basic Exchange and Cooperation Agreement for Geo-spatial Cooperation (BECA) are not concluded yet, as some differences still remain.

The ISA is crucial for U.S. companies bidding for big ticket Indian deals to partner with Indian private industry, especially the multi-billion dollar deal for 114 fighter jets.

As part of efforts for co-development and co-production of military hardware, a Standard Operating Procedure (SOP) for Defence Technology Trade Initiative (DTTI) is also expected to be signed that will act as a guide to coordinate projects.
The 2+2 meeting
The 2+2 dialogue is the highest-level institutional mechanism between India and USA that brings together the perspectives on foreign policy, defence and strategic issues. The meeting will be held between Defence ministers and Foreign ministers of both the countries.