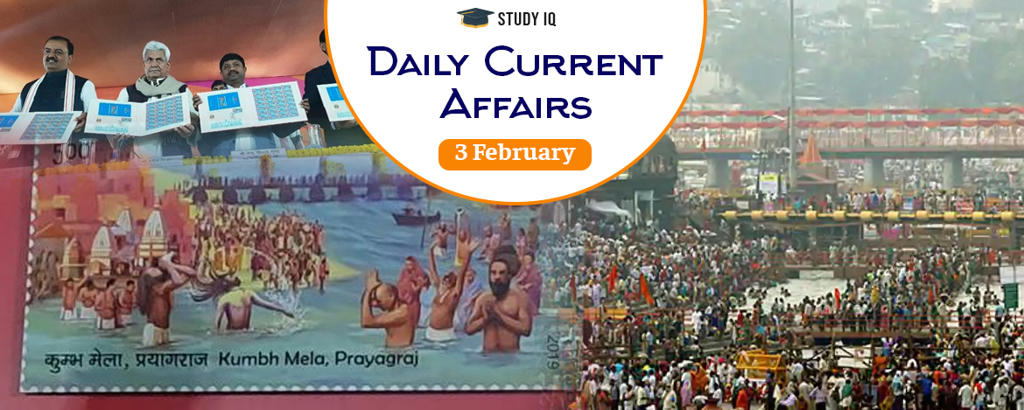 Special Postage Stamp on Kumbh Mela released
Date: 03 February 2019
Tags: Cinema, Fairs, Festivals, Holy Places
Union Government has released Indian Postal Department's special postage stamp on Kumbh Mela. It was released by Union Minister of State (MoS) for Railways and Communication Manoj Sinha. He also released first day cover of Kumbh Mela. Its cost is five rupees.
Kumbh Mela (Festival of Scared Pitcher)
It is Hindu festival which is observed during Purnima (full moon) of Paush month (December 22- January 20) after every 12 years on tanks of a holy river to take dip and perform various rituals.

It represents syncretic set of rituals related to worship and cleansing in holy rivers. It is the largest religious congregation and peaceful gathering on planet.

It is held every four years by rotation at: Haridwar, Uttarakhand (on banks of River Ganga), Prayagraj/Allahabad, Uttar Pradesh (at confluence of River Ganga, Yamuna and mythological Saraswati), Nashik, Maharashtra (banks of Godavari) and Ujjain, Madhya Pradesh (banks of River Shipra, tributary Chambal River). Thus it is held every twelfth year at each of these four places.

Bhagvat Purana is first written evidence of Kumbha Mela. Samudra manthan episode related to Kumbha Mela is also mentioned in Vishnu Purana, Bhagavata Purana, Mahabharata, and Ramayana.

Its another written evidence is in works of Chinese traveler Huen Tsang, who visited India in 629–645 AD, during reign of Harsha. It was also popularised among people by 8th century saint Shankaracharya.

UNESCO in December 2017 had inscribed ´KumbhMela´ on its Representative List of Intangible Cultural Heritage of Humanity.