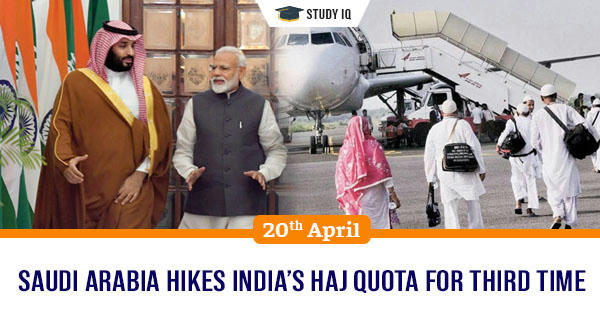 Saudi Arabia hikes India's Haj quota for third time
Date: 20 April 2019
Tags: Holy Places
Saudi Arabia has issued formal order increasing India's Haj quota to 2 lakhs from earlier 1.75 lakhs. This is third hike in India's quota in three consecutive years. This decision comes as per announcement of Saudi Crown Prince Mohammed bin Salman during meeting with Prime Minister Modi in February 2019 to increase India's Haj quota by 25 thousand.
With the increase, India has attained second position in list of countries that send highest pilgrims to Saudi Arabia, leaving behind Pakistan. In 2018, Indonesia (world's populous Muslim Country) had sent maximum number of pilgrims at 2.21 lakh people, followed by Pakistan which sent 1.80 lakh pilgrims.
Significance of Decision
The hike in quota means record 2 lakh Indian Muslims will undertake Haj this year without any subsidy. The list includes 2,340 Muslim women who will go for pilgrimage without 'Mehram' or male companion.
It will ensure that all Haj applicants from big states like Uttar Pradesh, West Bengal, Andhra Pradesh and Bihar can embark pilgrimage this year as their waiting lists have been cleared due to the increase in quota. This is for first time since independence that no applicant from these big states will be left out. It will also benefit all applicants from Andaman & Nicobar Islands, Dadra & Nagar Haveli, Goa, Lakshadweep, Manipur, Odisha, Puducherry, Assam, Chandigarh, Daman & Diu, Himachal Pradesh, Jharkhand, Punjab, and Tripura.
Haj
It is annual Islamic pilgrimage to Kaaba (House of God) in the holiest city of Mecca in Saudi Arabia for Muslims. It is one of five pillars of Islam, alongside Shahadah, Zakat, Salat and Sawm. It is mandatory religious duty for Muslims that must be carried out at least once in their lifetime by all adult Muslims who are physically and financially capable of undertaking it. The rites of Haj are performed over five or six days, beginning on t eighth and ending on thirteenth day of Dhu al-Hijjah i.e. last month of Islamic calendar.
Previous Government Decisions wrt to Haj
Haj Subsidy: In 2018, Muslims from India performed Haj without any subsidy for the first time after independence
Mehram: Union Government in 2017 had lifted ban on Muslim women going to Haj without Mehram or male companion, which resulted into about 1300 Indian Muslim women went on Haj 2018 without any male companion.