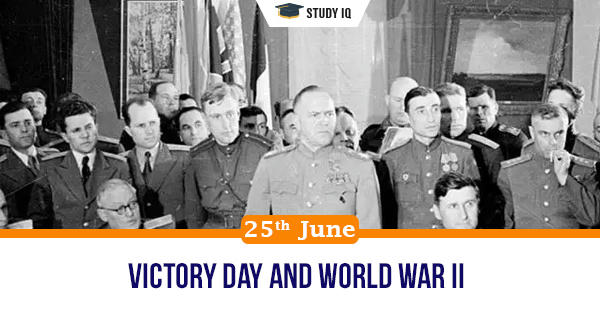 Victory Day and World War II
Date: 25 June 2020
Tags: Historical Places
Issue
Defence Minister Rajnath Singh is on a three-day trip to Russia to attend the 75th Victory Day. India has sent a tri-services contingent to participate in the Victory Day Parade.
Details
Victory Day marks the end of World War II and the victory of the Allied Forces in 1945. Adolf Hitler had shot himself on April 30.

On May 7, German troops surrendered, which was formally accepted the next day and came into effect on May 9. In most European countries, it is celebrated on May 8, and is called the Victory in Europe Day.

The erstwhile Soviet Union had not wanted the surrender to take place in the west and wanted that such a significant event should reflect the contribution of the Red Army and the Soviet population.

This year, the celebrations this year were pushed to June because of the Covid-19 pandemic. In November 2019, Russian President Vladimir Putin had invited Prime Minister Narendra Modi to the Victory Day celebration which were due to be held on May 9.

The parade will see the participation of military personnel from 19 countries, including India and China. The celebrations are expected to include 64,000 participants.

Many Indian leaders have attended several Victory Day Parades. At the 70th anniversary of Victory Day celebrations in 2015, then President Pranab Mukherjee went to represent India. Manmohan Singh had attended the 60th anniversary in 2005 as the then Prime Minister of India.

Mukherjee had attended the celebrations earlier as well. He had then said there were several reasons why the government should not participate in Victory Day celebrations for the Second World War.

He had stated that the Indian National Army of Subhash Chandra Bose had fought the Allied Forces and that leaders of Congress were jailed during the war for their protests.