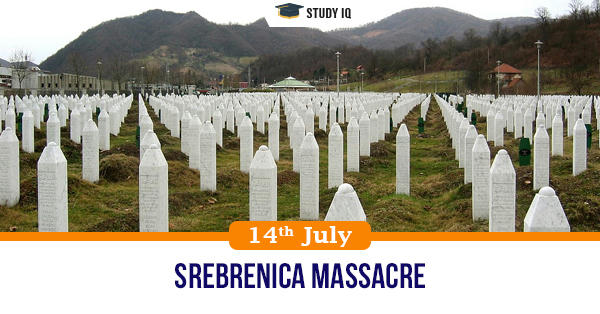 Srebrenica massacre
Date: 14 July 2020
Tags: Historical Places
Issue
In July 1995, approximately 8,000 Muslims, mostly men, and boys were killed in Srebrenica, a town in Bosnia and Herzegovina in south-eastern Europe, by Bosnian Serb forces.
Background
The disintegration of Yugoslavia in 1991 threw the south-eastern and central Europe in chaos and led to violent inter-ethnic wars in the region over the next few years.
Details
The violence perpetrated against Bosniaks or Bosnian Muslims during the Srebrenica massacre was a result of this regional conflict. Some consider this massacre was the worst atrocity against civilians in Europe since the Holocaust.

The Bosnian War that occurred between 1992-1995, witnessed a period of displacement and ethnic cleansing of Bosnian Muslims and Bosnian Croats by the Bosnian Serb army and paramilitary forces.

Thousands of Bosnian Muslim families sought refuge with the Dutchbat, a Dutch battalion under the United Nations forces that had been deployed following the upheaval during the Bosnia War, believing that the area under their control was a safe zone.

The UN peacekeeping mission not only did it not protect Bosnian Muslims, in some cases, it actively handed over young boys and men to Bosnian Serb forces knowing that they would be killed.

The International Criminal Tribunal for the former Yugoslavia that investigated war crimes that occurred during the conflict in the Balkans in the 1990s found that efforts had been made by the Bosnian Serb army to remove bodies from these mass graves to other sites in an attempt to conceal the extent of the crimes and killings.

In 1995, the International Criminal Tribunal for the former Yugoslavia indicted Ratko Mladi? and Radovan Karadži?, the President of the Republika Srpska, for war crimes against Bosnian Muslims in Srebrenica.

On July 11, 25 years on, commemoration services were held at the Srebrenica-Potocari Memorial and Cemetery in remembrance of the victims of the massacre. During this ceremony, bodies of nine victims that were recently identified were buried in the cemetery.

Many Serbian politicians and citizens refuse to call it genocide and public buildings continue to hold names of people convicted of war crimes against Bosnian Muslims and others who were in positions of power during the massacre but did little to intervene.