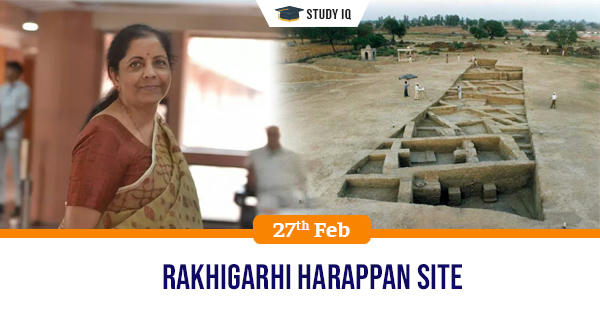 Rakhigarhi Harappan site
Date: 27 February 2020
Tags: Historical Places
Issue
The Centre is moving ahead with its plan to develop the site of Rakhigarhi as a tourist hub and set up a museum,which has got the residents worried.
Background
Finance Minister Nirmala Sitharaman had announced the government's plan to fund five on-site museums, including the under-construction museum initiated by the Haryana government at Rakhigarhi in her budget speech.
Details
The ASI has been able to get under its control just 83.5 acres of the 350-hectare site that spans 11 mounds, after first taking over the site in 1996, due to encroachments and pending court cases.

Regarding the concerns, the government would work with the villagers to address their concerns as the tourist hub is formed.
Rakhigarhi
Rakhigarhi is the site of a pre-Indus Valley Civilisation settlement going back to about 6500 BCE, located in the state of Haryana. Later, it was also part of the mature Indus Valley Civilisation, dating to 2600-1900 BCE. The site is located in the Sarasvati river plain, some 27 km from the seasonal Ghaggar river.

Rakhigarhi encompasses a set of seven mounds, and there are many more settlement mounds in the immediate vicinity. In January 2014, the discovery of additional mounds resulted in it becoming the largest Indus Valley Civilization site, overtaking Mohenjodaro (300 Hectares) by almost 50 hectares, resulting in almost 350 hectares.
Findings
Terracotta statues, weights, bronze artefacts, comb, copper fish hooks, needles and terracotta seals have also been found. A bronze vessel has been found which is decorated with gold and silver.

A gold foundry with about 3000 unpolished semi-precious stones has been found. Many tools used for polishing these stones and a furnace were found there.

A burial site has been found with 11 skeletons, with their heads in the north direction. Near the heads of these skeletons, utensils for everyday use were kept. The three female skeletons have shell bangles on their left wrists. Near one female skeleton, a gold armlet has been found.

Hunting tools like copper hafts and fish hooks have been found here. Presence of various toys like mini wheels, miniature lids, sling balls, animal figurines indicates a prevalence of toy culture.

A granary belonging to mature Harappan phase (2600 BCE to 2000 BCE) has been found here. Granary is made up of mud-bricks with a floor of ramped earth plastered with mud. It has 7 rectangular or square chambers.