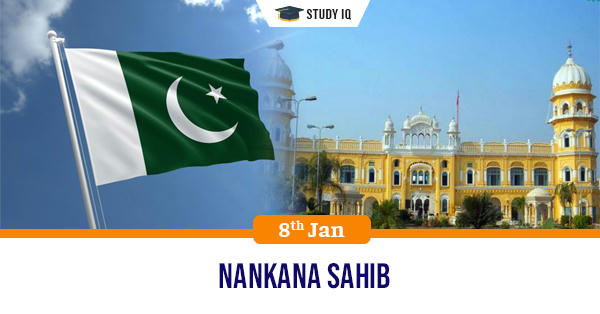 Nankana Sahib
Date: 08 January 2020
Tags: Historical Places
Issue
Tension mounted in Nankana Sahib in Pakistan when a man hurled stones at Gurdwara Janam Asthan, the birthplace of Guru Nanak Dev, and threatened to convert it into a mosque.
Background
Nankana Sahib is a city in Pakistan's Punjab province, where Gurdwara Janam Asthan (also called Nankana Sahib Gurdwara) is located. The shrine is built over the site where Guru Nanak, the founder of Sikhism, was believed to be born in 1469.
Details
Besides Gurdwara Janam Asthan, Nankana Sahib has several important shrines, including Gurdwara Patti Sahib, Gurdwara Bal Leela, Gurdwara Mal Ji Sahib, Gurdwara Kiara Sahib, Gurdwara Tambu Sahib, all dedicated to stages in the life of the first Guru. There is also a Gurdwara in memory of Guru Arjan (5th Guru) and Guru Hargobind (6th Guru).

The Janam Asthan shrine was constructed by Maharaja Ranjit Singh, after he visited Nankana Sahib in 1818-19 while returning from the Battle of Multan.

During British rule, the Gurdwara Janam Asthan was the site of a violent episode when in 1921, over 130 Akali Sikhs were killed after they were attacked by the Mahant of the shrine.

The incident is regarded as one of the key milestones in the Gurdwara Reform Movement, which led to the passing of the Sikh Gurdwara Act in 1925 that ended the Mahant control of Gurdwaras.
Gurudwara Reform Movement
The Akali Movement also known as Gurdwara Reform Movement came into full swing from the early 1920's. Its aim was to bring reform in the working and management of Sikh Gurdwaras.

The Akali Movement was created to free the Sikhs historic Gurdwaras from Mahants who were supported by the British rule.

Eventually the Gurdwara Reform Act was passed in July 1925 which placed all Gurdwaras in Punjab under Panthic control. This control was to be exercised through elected Panthic bodies viz, Shiromani Gurdwara Prabandak Committee and local Gurdwara Committees.