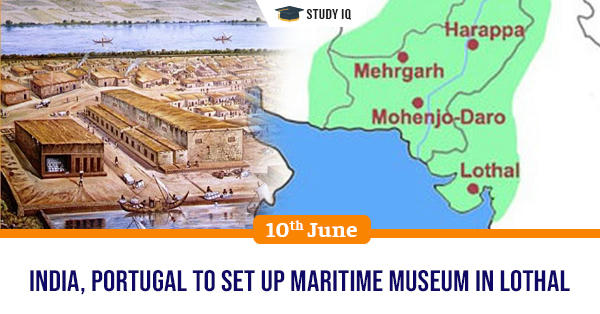 India, Portugal to set up maritime museum in Lothal
Date: 10 June 2019
Tags: Historical Places
India and Portugal have announced cooperation in the setting up of National Maritime Heritage Museum near ancient Harappans civilization at Lothal in Gujarat. It is likely to come up on the lines of a similar museum at Lisbon, which is administered by Portuguese Navy.
About National Maritime Heritage Museum
The foundation stone for proposed museum was laid by Prime Minister Narendra Modi in March 2019. It will be located near ancient Indian site of Lothal in Gujarat.

The complex will be built in public-private partnership (PPP) model. It will have huge museum displaying India's heritage of inland waterways and trade through water route.

Objective:

It will showcase and preserve India's rich and diverse maritime heritage. It will also display objects relating to ships and travel on large bodies of water. It also intends to highlight the ancient shipbuilding and navigational technologies developed by India.

Implementing agencies:

It will be implemented Union Ministry of Shipping through its Sagarmala programme with support of Archaeological Survey of India (ASI), State government and other stakeholders. The Indian Navy is also keen to be a stakeholder in the project. Besides, Portuguese Navy also has agreed to assist with their experience of administering the maritime museum in Lisbon.
Lothal
It is located 85 kilometers away from Ahmedabad, Gujarat. It was centre of major maritime activities of Harappans civilization. It is one of the oldest man-made dockyards in India and the world. It displays engineering standards used during Harappan times in creating artificial dock. It also showcases high standards of scientific and engineering skill of that time which were far more advanced than anywhere else in the world in 3rd millennium BCE.