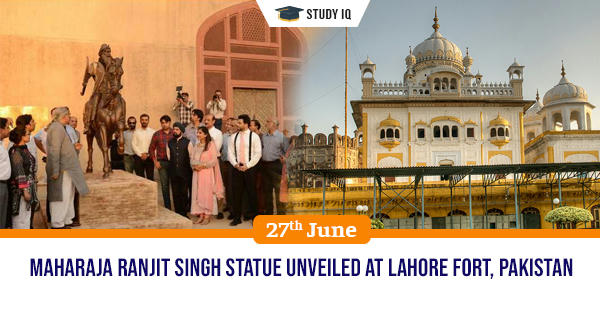 Maharaja Ranjit Singh statue unveiled at Lahore Fort, Pakistan
Date: 27 June 2019
Tags: Historical Places
Life-size bronze statue of Maharaja Ranjit Singh was unveiled at Lahore fort near Maharani Jinda haveli at Lahore, Pakistan on the occasion of 180th death anniversary of Sikh ruler. The life-size statue shows Maharaja Ranjit Singh, riding his favourite Arabic horse Kahar Bahar. The statue is located in open space outside Mai Jindian Haveli in Lahore Fort, close to the building that houses Ranjit Singh samadhi. The haveli is named after Ranjit Singh's youngest queen.
Note: Arabic horse Kahar Bahar was gifted to Maharaja Ranjit Singh by Dost Muhammad Khan, the founder of the Barazkai dynasty.
About Maharaja Ranjit Singh
He was popularly known as Sher-e-Punjab Singh. He had ruled over Punjab for close to 40 years in the early 19th century from 1801-1839. He had a long association with Lahore, which was the capital of Sikh Empire under leadership of Ranjit Singh and is also his final resting place.
He captured Lahore in 1799 and unified all the warring misls(groups) into one empire. He also protected Lahore from invading Afghans and was responsible for restoration of Mughal architecture in the city. Before he took reigns of Sikh empire, factionalism was prevalent in Lahore with different warring misls ruling different parts of the city.
Other Maharaja Ranjit Singh Statues: 22-feet tall bronze statue of Ranjit Singh was installed in Parliament of India in 2003. French town called Saint Tropez, that had military links with Punjab also had installed bronze bust of Ranjit Singh in 2016.