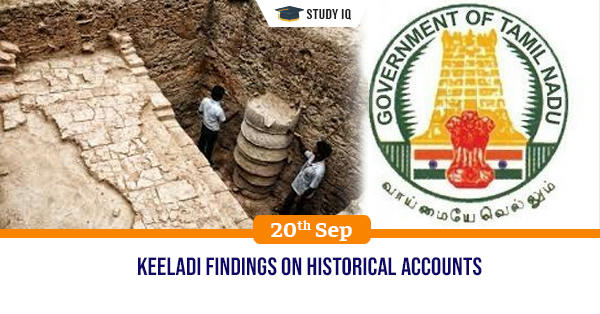 Keeladi findings on Historical accounts
Date: 20 September 2019
Tags: Historical Places
Issue
Tamil Nadu Archaeology Department (TNAD) has stated that the cultural deposits unearthed during excavations at Keeladi in Sivaganga district could be safely dated to a period between 6th century BCE and 1st century CE. This is a major turning point in cultural history of ancient sangam age.
Background
The report titled, 'Keeladi-An Urban Settlement of Sangam Age on the Banks of River Vaigai', was published by the TNAD and released recently bt the tamil Nadu government, which reported this findings.
Details
The report, place Keeladi artefacts about 300 years earlier than previously believed era of 3rd century BCE.

The results from the excavations suggest that the "second urbanisation of Vaigai plains happened in Tamil Nadu around 6th century BCE as it happened in Gangetic plains.

The recent scientific dates obtained for Keeladi findings push back the date of Tamil-Brahmi script to another century, i.e., 6th century BCE.

Fifty-six Tamil-Brahmi inscribed potsherds were also recovered from the site of excavation .

Pottery specimens from Keeladi sent for mineral analysis, confirmed that water containers and cooking vessels were shaped out of locally available raw materials.

The next round of excavations are underway to determine further studies.
Keeladi
Keeladi is a Sangam period residence that is being excavated by the Archaeological Survey of India.

This excavation site is located 12 km southeast of Madurai in Tamil Nadu, near the town of Keeladi in Sivagangai district.
It is found on the shores of river Vaigai and it brings out the culture of Tamils