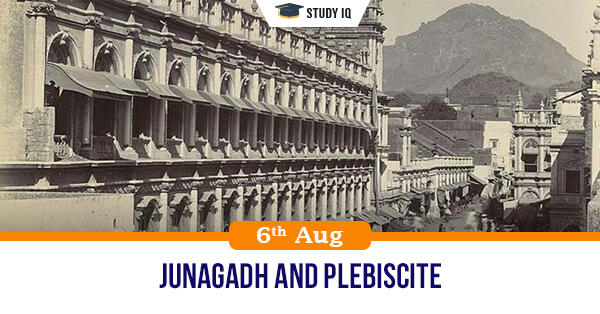 Junagadh and plebiscite
Date: 06 August 2020
Tags: Historical Places
Issue
Pakistan Prime Minister Imran Khan has unveiled a new political map that includes all of Jammu & Kashmir, Ladakh, Sir Creek and Junagadh.
Background
The release comes a day before the first anniversary of the government's August 5 decisions rolling back special status of J&K and the bifurcation of the state into two.
Details
The inclusion of Sir Creek on the Kutch coastline, a 96-km estuary on the India-Pakistan through Gujarat and Sindh, on which India and Pakistan had nearly reached an agreement in 2007-08 is a surprise because the issue has been largely solved.

The other inclusion is that of Junagadh, also in coastal Gujarat, whose decision to join India in 1947, formalised through a Plebiscite in 1948, was not accepted by Pakistan then, but was overtaken by the first India-Pakistan war over Kashmir that began at the end of October 1947 and continued for over a year.

Junagadh was mentioned by Pakistan when the Security Council took up the issue of the hostilities in J&K in January 1948.

But after the initial resistance from Pakistan, Junagadh has been seen as a settled matter in the bilateral relationship.

Junagadh was in the Kathiawar region, where most other princely states had already acceded to India. The ruler of Junagadh was Nawab Mahabatkhan Rasulkhanji.

The state was not contiguous with Pakistan. Eighty per cent of the population was Hindu. Somnath, where the famous Shiva temple was ransacked by Mahmud Ghazni, is located in Junagadh, near the port of Veraval.

After the decision of Indian leaders to keep Junagadh was conveyed and Pakistan had no chance to claim, the Nawab of Junagadh fled to Karachi by air, with his family, his favourite dogs and valuables.

India had indicated that it would want to formalise the arrangement through a plebiscite. This was held on February 20, 1948. Of 2,01,457 registered voters, 1,90,870 cast their votes. Of this number only 91 cast their votes in favour of accession to Pakistan.

A referendum was also held in five neighbouring territories. Out of 31,434 votes cast in these areas, only 39 were for accession to Pakistan.