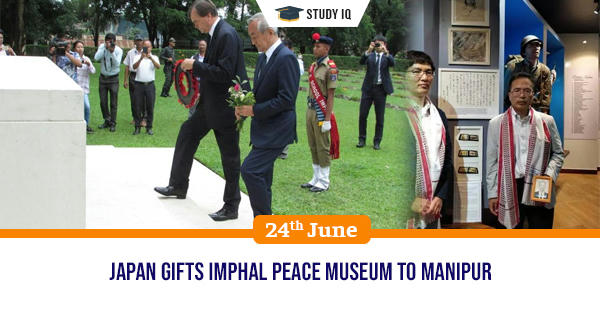 Japan gifts Imphal Peace Museum to Manipur
Date: 24 June 2019
Tags: Historical Places
Japan gifted Manipur museum of peace to mark the 75th anniversary of the Battle of Imphal, one of the fiercest battles of the Second World War. The Imphal Peace Museum was inaugurated at Red Hill, about 20 km southwest of Manipur's capital Imphal. The museum is funded by Nippon Foundation, a private, non-profit grant-making organization based in Japan.
Signifance of Imphal Peace Museum
It symbolises reconciliation between Japan and Britain and Japan and India. It will serve as living memory of tragic war, reinforcing message that history changes and will make world learn from past which is required for lasting peaceful world.
Background
It took place in region around city of Imphal (now Manipur's capital) from March to July 1944 during Second World War. During this war, Japanese armies attempted to invade India by destroy Allied forces at Imphal. However, they were diven back into Burma (todays' Myanmar) with heavy losses. The Battle of Imphal together with simultaneous Battle of Kohima (also known as Stalingrad of the East) were main turning points of Japan's Burma Campaign during World War Second. Around, 70,000 Japanese soldiers, alongside those of Indian National Army (INA) led by Subhash Chandra Bose had died in battles with British-led Allied forces in areas around Imphal and Kohima from March to June 1944. The last of these battles was fought at Red Hill, where the Japanese War Memorial was built in 1994 to mark the 50th anniversary of the battle.