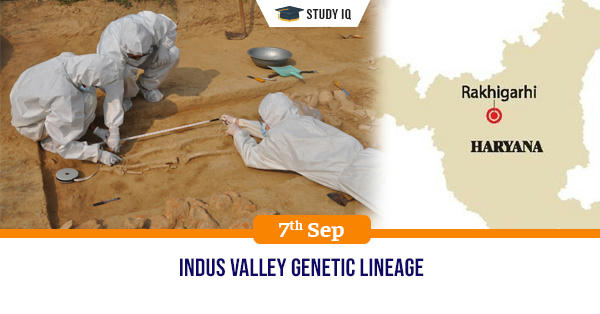 Indus Valley Genetic lineage
Date: 07 September 2019
Tags: Historical Places
Issue
A study of DNA from skeletal remains excavated from the Harappan cemetery at Rakhigarhi argues that the hunter-gatherers of South Asia, who then became a settled people, have an independent origin.
Background
The DNA, which belongs to an individual who lived four to five millennia ago, suggests that modern people in India are likely to be largely descended from people of this ancient culture.
Details
The researchers who conducted the study contend that the theory of the Harappans having Steppe pastoral or ancient Iranian farmer ancestry thus stands refuted. The finding also negates the hypothesis about mass migration during Harappan times from outside South Asia.

Researchers have successfully sequenced the first genome of an individual from Harappa and combining it with archaeological data, found that hunter-gatherers of South Asia had an independent origin, and authored the settled way of life in this part of the world.

The study, he said, finds that the same hunter-gatherer communities developed into agricultural communities and formed the Harappan civilisation.

The researchers also suggest that there was a movement of people from east to west as the Harappan people's presence is evident at sites like Gonur in Turkmenistan and Sahr-i-Sokhta in Iran.
Other Information
Indus valley Civilization
The Indus Valley Civilization was an ancient civilization located in what is Pakistan and northwest India today, on the fertile flood plain of the Indus River and its vicinity.

Evidence of religious practices in this area date back approximately to 5500 BCE.