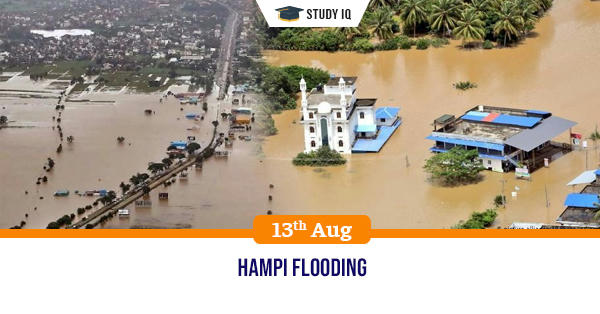 Hampi Flooding
Date: 13 August 2019
Tags: Historical Places
Issue
Heavy rains in catchment areas of Karnataka have resulted in flooding of World famous heritage site of Hampi.
Background
Many places along the banks of Tungabhadra river, including the world heritage site Hampi, are facing flood threat after water was released from the Tungabhadra reservoir on Sunday morning.
The reservoir was receiving heavy inflow, thanks to the downpour in Tungabhadra catchment area in the Western Ghats for the last one week
Hampi- UNESCO world Heritage site
Hampi was the last capital of the Vijayanagara rulers. Its rulers built temples and palaces, which have been sites of admiration ever since. Constructed between the 14th and 16th centuries, the region was conquered and pillaged by the Deccan confederacy in 1565.

A popular tourist attraction in Karnataka, Hampi was declared a UNESCO World Heritage Site in 1986.
Monuments of Hampi
Vittala Temple Complex

Virupaksha Temple

Virupaksha Bazar

Krishna Temple

Ugra Narasimha statue

Lotus Mahal

Elephant Stables

Hazara Rama Temple
Vijayanagara Empire
The Vijayanagara Empire (also called Karnata Empire,[3] and the Kingdom of Bisnegar by the Portuguese)

was based in the Deccan Plateau region in South India

. It was established in 1336 by Harihara I and his brother Bukka Raya I of Sangama Dynasty.

The empire rose to prominence as a culmination of attempts by the southern powers to ward off Islamic invasions by the end of the 13th century. It lasted until 1646, although its power declined after a major military defeat in the Battle of Talikota in 1565 by the combined armies of the Deccan sultanates. The empire is named after its capital city of Vijayanagara, whose ruins surround present day Hampi,