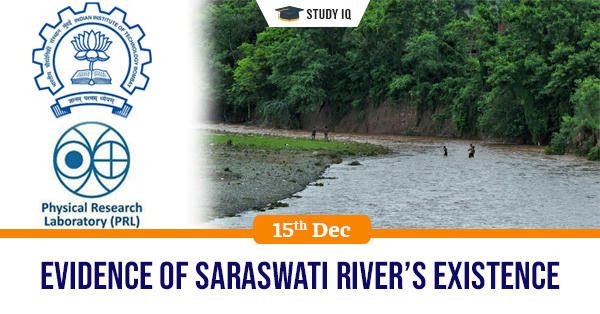 Evidence of Saraswati river's existence
Date: 15 December 2019
Tags: Historical Places
Issue
Researchers from Physical Research Laboratory (PRL), Ahmedabad, and Indian Institute of Technology Bombay, have analysed sand from 3-10 metres below surface of modern Ghaggar river and found that it was indeed a perennial river, fed by glacial rivers in the past.
Background
The Rig veda mentions a mighty, snow-fed river Saraswati on whose banks the literature was supposed to be derived. Today, the Ghaggar is a seasonal, monsoon-fed river originating in the sub-Himalayas.
Details
The Indus valley civilisation which flourished in present day northwestern India and adjacent Pakistan was the largest and oldest urban civilisation in the world.

Nearly two-thirds of the 1,500 archaeological sites of the Harappans occur on the dried up banks of the Ghaggar river.

Coarse-grained white or grey sands that contain abundant white mica are typical of glacier-fed Higher Himalayan rivers such as the Ganga, Yamuna and Sutlej.

Researchers found such sand layers 3-10 metres below the surface on both sides of the modern Ghaggar in a stretch of 300 kilometres up to the Pakistan border.

Presence of this sand itself is an indication of existence of a powerful river in the past.

The team identified the source of these sands by studying the strontium-neodymium isotopic ratios.

They also measured the ages of the mica samples in the sand by argon-argon dating method.

It was found that the isotopic ratios and Ar-Ar ages overlap with those of the rocks of the Higher Himalaya, thus establishing that these sands have been transported by the river from Higher Himalaya to the plains.

The team established the depositional ages of the samples by radiocarbon dating and optical dating of mollusk shells found in the deposit.

The researchers thus established that the ancient Ghaggar transported sands from glaciated regions of the Higher Himalaya.

The key result of the research is that the river Ghaggar had two distinct perennial phases: one during 80,000-20,000 years ago and the other during 9,000-4,500 years ago.

On the basis of the data the researchers show that the Sutlej River was flowing into the Ghaggar River to make it perennial for the Early Harappans.

The researchers say that the revived perennial condition of the Ghaggar, between 9,000 and 4,500 years ago can be correlated with the Rig vedic Saraswati, and that it likely facilitated development of the early Harappan settlements along its banks.
Perennial and non-perennial rivers
Perennial rivers are those rivers which exhibit a continuous flow of water throughout the year except during extreme drought. Examples: Indus, Ganges, Brahmaputra.

Non-perennial rivers are those rivers which have no flow for at least a part of the year. Examples : Mahanadi, Krishna, Narmada, Tapi, Godavari.