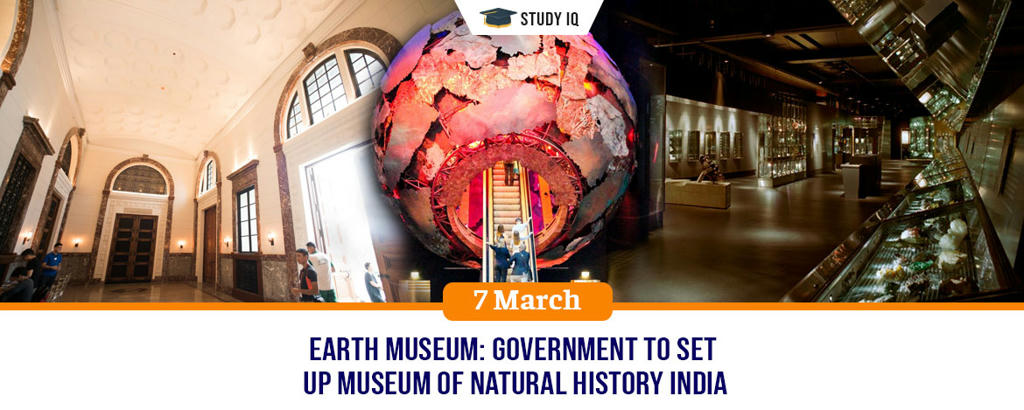 Earth Museum: Government to set up museum of natural history
Date: 07 March 2019
Tags: Historical Places
Government will set up Indian Museum of the Earth (TIME) to showcase India's natural heritage including fossils and geological features. It will be first of its kind museum in the country and help in better conservation of India's prehistoric heritage. It is one of four key projects identified by Prime Minister's Advisory Council on Science, Technology & Innovation.
Earth Museum
It will house India's geological and palaeontological wealth in one location and make people aware of India's prehistorical wealth.

It will be set up as public-private partnership. It will be located somewhere in NCR Delhi in Noida or Gurugram.

It will be modelled on American Museum of Natural History or Smithsonian museum in US.

It will organize several collections of fossils and important geological specimens at single place.

Moreover, it will serve as single site, accessible to public as well as researchers wanting to investigate rare and important finds.
Background
India has rich geological history and fossils dating back to breaking up of Gondwanaland super-continent nearly 150 million years ago.

It home to vast treasury of geological and palaeontological specimens ranging from dinosaur fossils to pre-human skulls, that contain wealth of scientific information about planet and its history.

Prominent fossils include jaw of an extinct ape, Gigantopithecus bilaspurensi, large dinosaur eggs and e skeleton of horned carnivore, Rajasaurus narmadensis (royal Narmada dinosaur).

But these rare historical specimens are scattered in different labs all over the country. Moreover, there is no such museum in India to showcase its natural heritage including fossils and geological features.

Most of developed countries have well organised museums for housing and display of pre-historic animals and plants