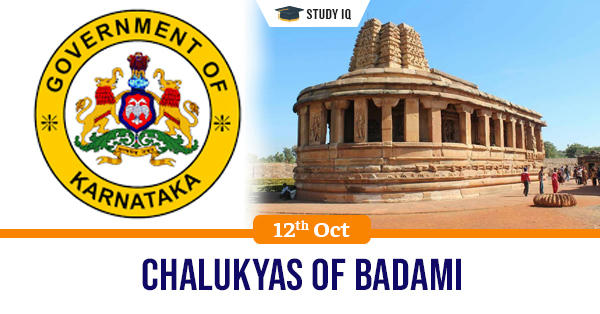 Chalukyas of Badami
Date: 12 October 2019
Tags: Historical Places
Issue
Graves of Chalukyan rulers have been found in a village near Huligemmanakolla in Pattadakal of Bagalkot district in Karnataka.
Background
The Chalukyan kings were famous for building gigantic temples with intricate architecture in places such as Aihole, Badami and Pattadakal in Bagalkot district. There are 11 small temple-like structures in Huligemmanakolla that are believed to be the final resting place of the royal family.
Details
The Chalukyan kings built marvellous monuments and temples, but there are no clear details available of the places where they lived including their graves, which they had kept discreet.

The discovered area contains small temples built over linga, which is assumed to be graves of the Chalukyan royal family.
Chalukyas
The Chalukya dynasty was established by Pulakeshin I in 543 AD. Pulakeshin I took Vatapi (modern Badami in Bagalkot district, Karnataka) under his control and made it his capital.

Pulakeshin I and his descendants are referred to as "Chalukyas of Badami".

Pulakeshin II, the most famous ruler, extended the Chalukya Empire up to the northern extents of the Pallava kingdom and halted the southward march of Harsha, belonging to Pushyabhuti dynasty by defeating him on the banks of the river Narmada.
Architecture
Their style of architecture is called "Chalukyan architecture" , "Karnata Dravida architecture" or the "Vesara Style" of architecture, which is the fusion between northern "Nagara" style and southern "Dravida" style.
Badami Cave temples
Badami cave temples have rock-cut halls with three basic features: pillared veranda, columned hall and a sanctum cut out deep into rock.
Pattadkal temples
Virupaksha temple

Papanatha temple

Mallikarjuna temple

Sangameshwara temple
Aihole temples
Lad khan temple

Durga temple

Suryanarayan temple

Ravana Phadi temple
Contributions
A Southern India-based kingdom took control and consolidated the entire region between the Kaveri and the Narmada rivers.

The rise of this empire saw the birth of efficient administration, overseas trade and commerce.

Kannada literature, which had enjoyed royal support in the 9th century Rashtrakuta court found eager patronage from the Western Chalukyas.

The Chalukyas provided patronage to various religions and traditions such as Jainism, Veerashaiva etc and allowed them to prosper.