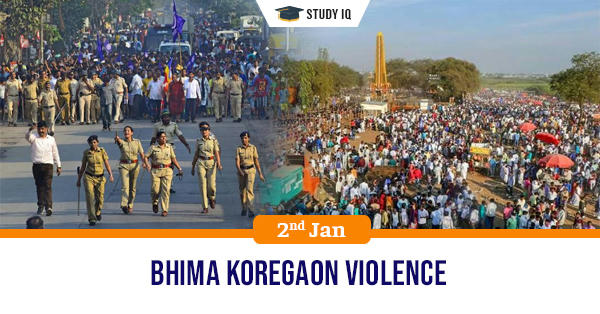 Bhima Koregaon violence
Date: 02 January 2020
Tags: Historical Places
Issue
Lakhs of people paid their tributes at the "Jaystambh" (victory pillar) in Perne village in Pune district of Maharashtra on the occasion of the 202nd anniversary of the Bhima- Koregaon battle.
Background
The Bhima Koregaon obelisk is dedicated to the Mahar British soldiers who fought against the Peshwa forces in the 1818 battle.
Details
Bhima Koregaon
The 1818 Battle of Koregaon is of communal importance for the Dalits. On 1 January 1818, 800 troops of the British Army, with small number of Mahars (leather workers) predominant among them, defeated a numerically superior force of the Peshwa Baji Rao II.

A victory pillar (Vijay Sthamb) was erected in Koregaon by the British, commemorating the dead soldiers. In 1928, the Dalit leader B. R. Ambedkar led the first commemoration ceremony here.

Since then, on 1 January every year, Ambedkarite Dalits gather at Bhima Koregaon to celebrate their victory against the upper caste Peshwa regime, whom they see as their oppressors.
Battle of Koregaon
The Battle of Koregaon (also called the Battle of Koregaon Bhima, after the river Bhima that flows close to it) was fought on 1 January 1818 between the British East India Company and the Peshwa faction of the Maratha Confederacy, at Koregaon Bhima.

The battle was part of the Third Anglo Maratha war, a series of battles that culminated in the defeat of the Maratha empire (under the Peshwas) and subsequent rule of the British East India Company in nearly all of Western, Central and Southern India. The company forces were led by Captain Francis Staunton.