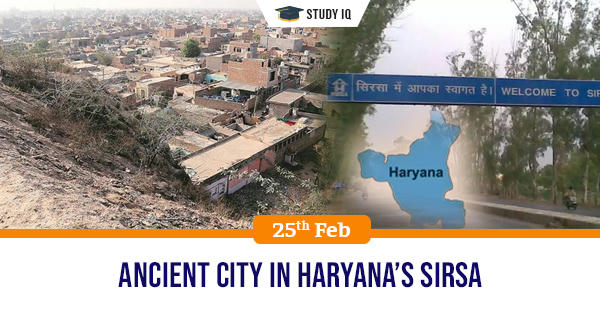 Ancient city in Haryana's Sirsa
Date: 25 February 2020
Tags: Historical Places
Issue
A mound in Sirsa indistinguishable from the dusty background of most Haryana small towns could hold clues to the ancient city of 'Sarishika'.
Background
Falling on the old route to Takshashila, the 6th-5th century BC city found mention in the Mahabharata, Panini's Ashtadhyayi and the Buddhist text Divyavadana.
Details
Before the Archaeological Survey of India (ASI) can confirm the historicity of the site, it has to convince the nearly 50,000 people living on the identified 82 acres to move.

There is also a dispute over the size of the protected area, with surveys by the ASI and government departments such as Revenue and Archaeology and Museums coming up with different figures.

The government is said to be trying to see if the ASI can take the parts of Ther that are heavily inhabited out of the protected zone.

The ASI found numerous antiquarian remains, ranging from the Gupta to the Mughal period in three months of excavation, but needs more time to verify the facts.

Following an affidavit to court regarding the area for protection, a joint survey conducted by the ASI and Haryana's Archaeological and Museums Department too had put the Ther area at 82 acres.