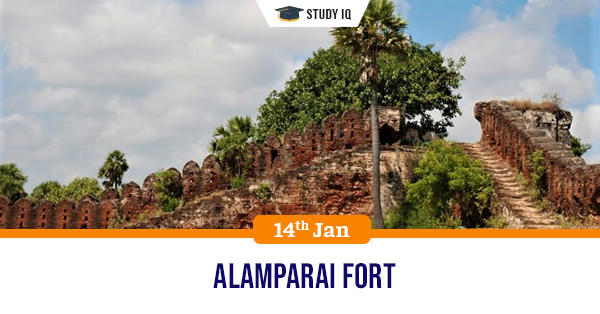 Alamparai fort
Date: 14 January 2020
Tags: Historical Places
Issue
The Alamparai Fort, which was once a thriving port and mint of the Muslim and French rulers, is set to regain its majesty after 350 years.
Background
The funding for the conservation and restoration project has come from the Asian Development Bank, which has allotted ?8.02 crore for the initiative.
Details
Situated along the Chennai-Puducherry East Coast Road in Madurantakam taluk of Kancheepuram district, the 15-acre brick and lime square structure was built by the Muslim rulers in the 17th century AD.

It was under the control of Nawab Dost Ali Khan in 1735, and was gifted to French Governor Joseph François Dupleix in 1750.

Important commodities like salt, cloth and ghee were exported from Alamparai, which is situated close to the Marakkanam port.

Alamparai, a flourishing place of trade and commerce, fell into oblivion when the British, led by Sir Thomas Eyre Coote, captured the fort in 1760 and inflicted damage on it.
Carnatic Wars
In the 18th century, three Carnatic Wars were fought between various Indian rulers and British and French East India Company on either side. These wars resulted in establishment of political supremacy of British East India Company.

The French company was reduced in the areas around Pondicherry only. Commercial and maritime rivalry between France and England was the primary reason for the wars.
First war (1744-48)
The war began with British Fleet arrived on Coromandel Coast and they started capturing the French Ships.

French asked backup forces from Mauritius. When these forces came, they attacked British, captured Madras and imprisoned the British Company servants.

To recapture Madras from French, Nawab of Arcot sent troops to Fort St George but the forces of Nawab were defeated by French.

In 1748, the Treaty of Aix-la-Chapelle ended the war in Europe and this also restored the peace between France and England. With this treaty, Madras was restored to the English for some territories (Louisburg) in North America.
Second war (1749-54)
A victory over Indian Nawab in first war boosted the confidence of Dupleix, who now thought to expand influence in South India.

In 1748 he saw an opportunity when Nizam of Hyderabad Asaf Jah I died and a war for succession broke out. There was a trouble in Arcot also.

Dupleix pledged French support for Nizam's grandson Muzaffar Zang for Hyderabad and Chanda Sahib for Arcot.

British pledged support to Nasir Zang for Hyderabad and Muhammad Ali for Arcot.

French protégé Muzaffar Zang was killed. French quickly put his nominee Salabat Zang on throne and maintained French Influence on Hyderabad for several years.

Robert Clive, who was a Clerk at that time in the Company suggest to attack on Arcot. This plan was approved, Arcot was occupied Chanda Sahib was captured and executed. Mohammad Ali was made Nawab of Arcot / Carnatic.

French and British signed a treaty of Pondicherry in 1755 and by this both countries agreed to not to interfere in quarrels of Indian princes.
Third War (1757-63)
The conflict between the France and England got renewed in 1756 in Europe, in the form of Seven Years War, which is coterminous with the Third Carnatic war.

The Third Carnatic War put an end to the French ambitions to create a colonial empire in India. The British Forces were able to capture the French Settlements at Chandranagar in 1757.

The British Forces were able to capture the French Settlements at Chandranagar in 1757. The French forces in south were led by Comte De Lally. The British forces under Sir Eyre Coote, defeated the French in the Battle of Wandiwash in 1760 and besieged Pondicherry.