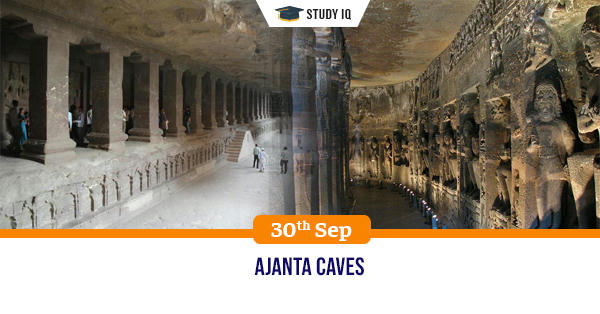 Ajanta caves
Date: 30 September 2019
Tags: Historical Places
Issue
Japanese tourists visiting the Ajanta caves have complained that bad roads have been deterring them from recommending the tourist destination back home.
Background
Ajanta caves are one of the most famous and sought after tourist destination in India after the Taj Mahal. The caves are famous for their ancient paintings and sculptures depicting Buddhist culture.
Details
Ajanta Caves
The Ajanta Caves are 30 (approximately) rock-cut Buddhist cave monuments which date from the 2nd century BCE to about 480 CE in Aurangabad district of Maharashtra state of India.

The caves include paintings and rock-cut sculptures described as among the finest surviving examples of ancient Indian art.

The site is a protected monument in the care of the Archaeological Survey of India, and since 1983, the Ajanta Caves have been a UNESCO World Heritage Site.
Art
The paintings in the Ajanta caves predominantly narrate the Jataka tales. These are Buddhist legends describing the previous births of the Buddha.

These fables embed ancient morals and cultural lores that are also found in the fables and legends of Hindu and Jain texts.

The paintings are in "dry fresco", painted on top of a dry plaster surface rather than into wet plaster.

Famous paintings include Bodhisattva Padmapani,King Janaka and wife, Persian ambassador, Buddha painting, Doorway painting.