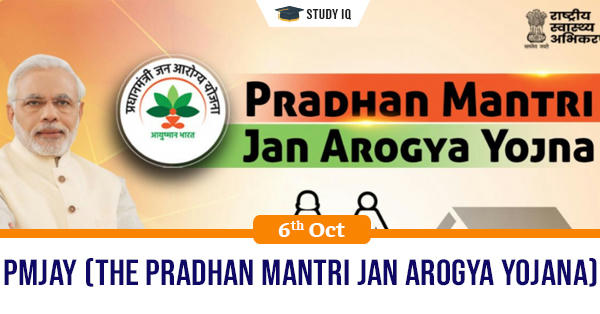 PMJAY (The Pradhan Mantri Jan Arogya Yojana)
Date: 06 October 2019
Tags: Health
Issue
The Pradhan Mantri Jan Arogya Yojana (PMJAY), the tertiary care arm of Ayushman Bharat, has funded the treatment of 90,000 cancer patients through 1.8 lakh hospital admissions in one year.
Background
Data available with the Union Health Ministry shows that every year there are 11.57 lakh new cancer patients in India and 7.84 lakh cancer deaths. At any given point, there are 22.5 lakh Indians living with cancer.
Details
Ayushman Bharat
Ayushman Bharat Yojana or Pradhan Mantri Jan Arogya Yojana (PMJAY) or National Health Protection Scheme is a centrally sponsored scheme launched in 2018, under the Ayushman Bharat Mission of MoHFW in India.

The scheme aims at making interventions in primary, secondary and tertiary care systems, covering both preventive and promotive health, to address healthcare holistically.

It is an umbrella of two major health initiatives namely, Health and Wellness centres and National Health Protection Scheme (NHPS).

The National Health Protection Scheme (NHPS) scheme is formed by subsuming multiple schemes including Rashtriya Swasthya Bima Yojana, Senior citizen health Insurance Scheme (SCHIS), Central Government Health Scheme (CGHS), Employees' State Insurance Scheme (ESIS) etc.
National Health Protection Scheme highlights
Ayushman Bharat-National Health Protection Scheme, will cover over 10 crore poor and vulnerable families (approximately 50 crore beneficiaries) providing coverage up to 5 lakh rupees per family per year for secondary and tertiary care hospitalization.

Benefits of the scheme are portable across the country and a beneficiary covered under the scheme will be allowed to take cashless benefits from any public or private enlisted hospitals across the country.

It will be an entitlement based scheme with entitlement decided on the basis of deprivation criteria in the Socio-Economic Caste Census (SECC) database.

It will target about 10.74 crore poor, deprived rural families and identified occupational category of urban workers' families as per the latest SECC data covering both rural and urban.

One of the core principles of Ayushman Bharat - National Health Protection Mission is to provide co-operative federalism and flexibility to states.

For giving policy directions and fostering coordination between Centre and States, it is proposes to set up Ayushman Bharat National Health Protection Mission Council (AB-NHPMC) at apex level Chaired by Union Health and Family Welfare Minister. States would need to have State Health Agency (SHA) to implement the scheme.

It Covers almost all secondary and many tertiary hospitalizations (except a negative list).