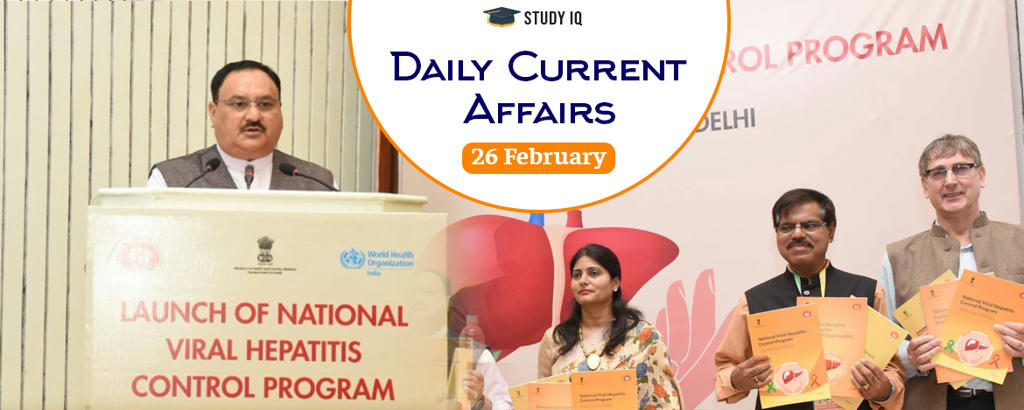 Government launches National Viral Hepatitis Control Program
Date: 26 February 2019
Tags: Health
Union Ministry of Health and Family Welfare has launched National Viral Hepatitis Control Program (NVHCP) with an aim to eliminate viral hepatitis by 2030. It is part of National Health Mission and has been launched in collaboration with World Health Organisation (WHO). Actor Amitabh Bachchan is WHO Goodwill Ambassador for Hepatitis in South-East Asia Region.
National Viral Hepatitis Control Program (NVHCP)
It aims to combat viral hepatitis and reduce mortality and morbidity associated with it.

Under it, government will provide free antiviral (drugs) for hepatitis B and C infections at all government hospitals for those suffering from hepatitis B and C.

It gives special focus on screening and medication to people receiving treatment for HIV/AIDS and pregnant women infected with hepatitis.

It will set up and upgrade facilities for diagnosis and treatment primarily of hepatitis B and C especially at designated treatment centres.

It will focus on preventive and promotive interventions especially on awareness generation.

It will be promoting diagnosis andtreatment support for patients of hepatitis B and C through standardized testing and management protocols.

It seeks for co-ordination and collaboration with different ministries and departments.

It seeks at capacity building at national, state, district levels and sub-district level up to Primary Health Centres (PHC) and health and wellness centres.
Viral hepatitis
It is inflammatory condition of liver caused by five known hepatitis viruses — A, B,C,D and E. It is largely preventable.

Transmission:

Of the five viruses, hepatitis A and E are water-borne diseases that are less severe in nature, while the remaining strains are blood-borne and can be fatal if not detected or treated in time.

Hepatitis B and C are transmitted through unsafe sexual practices, use of infected syringe, mother-to-child and infected blood transfusion, among others.

Symptoms and threats:

Hepatitis B and C usually leads to chronic liver condition and if not treated in time can also result in irreversible liver damage. These two strains account for maximum number of deaths, if not detected in time. Its infections can progress to cirrhosis and liver cancers.

Treatment:

The infection has no cure, but there is vaccine to prevent hepatitis B. There is no vaccine against hepatitis C, but the infection can be cured with treatment that lasts for three to six months.
Global public health problem
Viral hepatitis is recognized as global public health problem across the world. According to WHO estimates, it has caused 1.34 million deaths globally in 2015, more deaths than HIV, malaria and tuberculosis combined. In India, it is estimated that there are 4 crore people suffering from Hepatitis B and 0.6-1.2 crore people suffering from Hepatitis C.