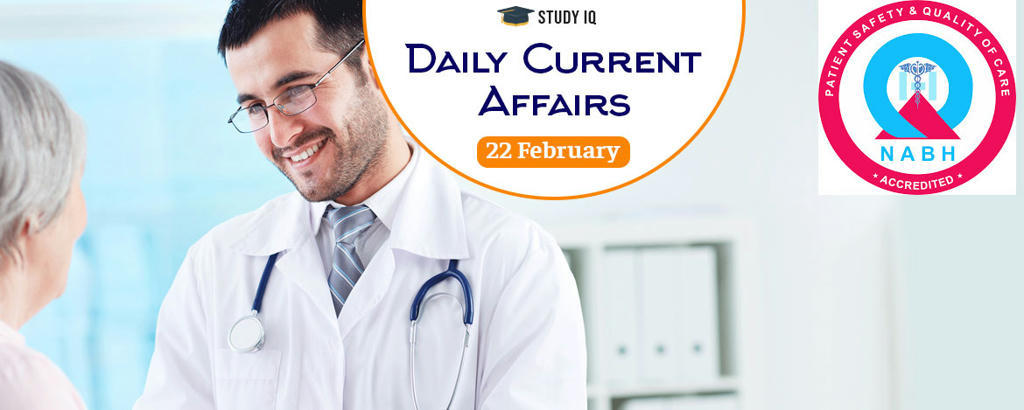 NABH launches HOPE portal
Date: 22 February 2019
Tags: Health
National Certification Board for Hospitals and Health Service Providers (NABH) has revised entry level certification process to make it simple, quick, digital and user-friendly. The revamped certification process will be driven through new launched HOPE portal. HOPE stands for Healthcare Organizations' Platform for Entry-Level-Certification.
Objectives of NABH accreditation process
Extend benefits associated with Insurance Regulatory and Development Authority of India (IRDAI) and Ayushman Bharat scheme to small scale hospitals across India.

Make small units eligible for quality services at the earliest stage in healthcare sector, including hospitals across the country.
HOPE Portal
It is online platform for smooth and secure registration and certification to provide self-explanatory questionnaire to be filled by Healthcare Organizations (HCO)/Small HCOs.

It obliges hospitals and health care providers to provide an accessible, safe and quality services to patients.

It ensures quality at nascent stages by enrolling wide range of hospitals across the country including HCOs.

It will enable them to comply with quality protocols, improve patient safety and overall healthcare facility of organization.

Under it, mobile application has also been developed to support HCO/SHCOs for directly uploading geo-tagged and time stamped evidences required for compliance to the standards.
National Certification Board for Hospitals and Health Service Providers (NABH)
It is constituent board of Quality Council of India (QCI), set up to establish and operate accreditation programme for healthcare organisations. It is autonomous in its operation.

It was established in 2006 to operate accreditation programme for healthcare organizations. It set benchmarks for progress of health industry and cater desired needs of the consumers.

Its objective is to ensure that health services in the country are tailored to international standards. It is supported by all stakeholders including industry, consumers, government.