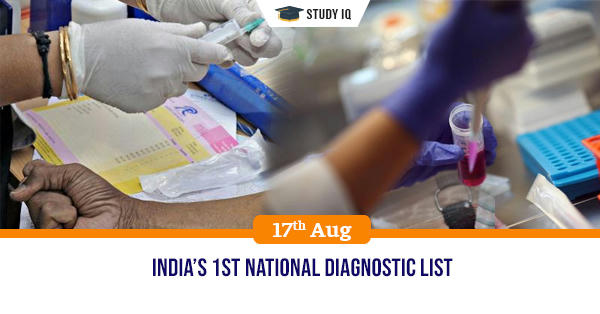 India's 1st National diagnostic list
Date: 17 August 2019
Tags: Health
Issue
India has got its first National Essential Diagnostics List (NEDL) , which aims to bridge the current regulatory system's gap that do not cover all the medical devices and in-vitro diagnostic device (IVD).
Background
Diagnostics serve a key role in improving health and quality of life and the ICMR has noted that the key challenges anticipated during implementation of the National EDL.

India has become the first country to compile such a list that would provide guidance to the government for deciding the kind of diagnostic tests that different healthcare facilities in villages and remote areas require.
Features
NEDL builds upon the Free Diagnostics Service Initiative and other diagnostics initiatives of the Health Ministry to provide an expanded basket of tests at different levels of the public health system.

Implementation of NEDL would enable improved health care services delivery through evidence-based care, improved patient outcomes and reduction in out-of-pocket expenditure, effective utilization of public health facilities, and effective assessment of disease burden, disease trends, surveillance, and outbreak identification and address antimicrobial resistance crisis too.

The list also encompasses tests relevant for new programmes such as Health and Wellness Centers (HWCs) under the Pradhan Mantri Jan Arogya Yojana.