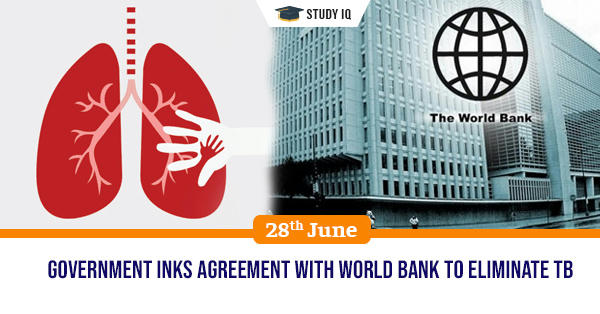 Government inks agreement with World Bank to eliminate TB
Date: 28 June 2019
Tags: Health
Union Government has signed US $400 Million Loan Agreement with World Bank to expand coverage and quality of interventions for control of Tuberculosis (TB). World Bank supported Program Towards Elimination of Tuberculosis will support Union Government's National Strategic Plan to end TB in India by 2025. It will cover nine States. The $ 400 Million loan will be provided by World Bank's lending arm International Bank for Reconstruction and Development (IBRD) and will have 19-year maturity with 5-year grace period.
World Bank's Program to Eliminate TB
It aims to help improve and strengthen diagnostics and management of drug-resistant tuberculosis and increase capacity of public institutions engaged in monitoring and treating TB in the country.

It will provide financial incentives to private sector care providers for reporting cases of TB and ensuring that their patients complete the treatment regimen.

It will provide Direct Benefit Transfers (DBT) to patients for acquiring critical nutrition needed during treatment.

It will strengthen detection, treatment and monitoring of Drug-Resistant Tuberculosis and track progress in the detection of additional drug resistance.

It will ensure that private sector providers adhere to established protocols of timely diagnosis, notification and effective management of TB.

It will help Cental Government to strengthen monitoring and implementation of Nikshay - a web-based TB case monitoring system introduced by government.
Tuberculosis (TB)
It is disease caused by bacteria "Mycobacterium tuberculosis" that most often affect the lungs. It spreads through the air from person to person by coughing, sneezing, and talking or by touching surface with infected saliva or mucus.. It commonly affects lungs and also may affect other parts of the body. In India, around 5 lakh people died every year due to Tuberculosis.