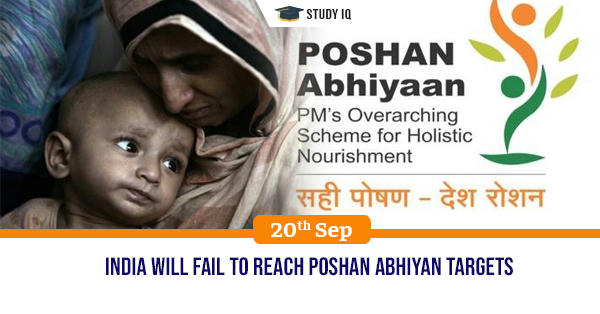 India will fail to reach POSHAN abhiyan targets
Date: 20 September 2019
Tags: Health
Issue
India is unlikely to meet targets set under the ambitious Poshan Abhiyaan or National Nutrition Mission (NNM) for reduction in prevalence of stunting, underweight, low birth weight and anaemia in women and children by 2022 according to study published by The Lancet.
Background
The report is a joint initiative of Indian Council of Medical Research, Public Health Foundation of India (PHFI) and the Ministry of Health and Family Welfare.
Details
The study points out that India will miss its target for stunting levels of 25% by 9.6%; underweight target of 22.7% by 4.8%; desired low birth level of 11.4% by 8.9%; anaemia level among women of 39.4% by 13.8%; and anaemia level among children of 44.7% by 11.7%.
POSHAN abhiyan
Poshan Abhiyaan, the world's largest nutrition programme, expected to benefit 10 crore people and launched in 2018.

It aims to reduce stunting, underweight, and low birth weight, each by 2% per year; and anaemia among young children, adolescents and women each by 3% per year until 2022. A special target for stunting is set at 25% by 2022.
Malnutrition in India
According to the National Family Health Survey-4 (2015-2016), 38.4% of children under the age of five are stunted; 35.7% are underweight; 18% of children were born underweight (less than 2.5 kg); and 58% of children between the age of 6-59 months and 53% of women in the age of 14-49 years have anaemia.