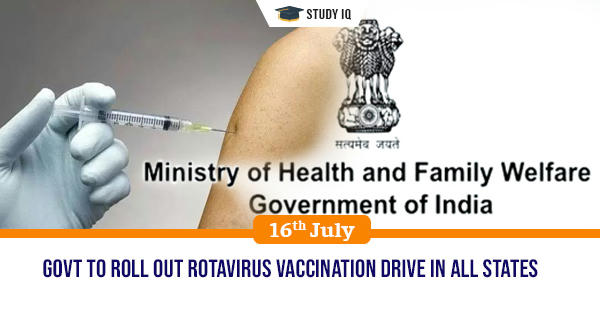 Govt to roll out rotavirus vaccination drive in all states
Date: 16 July 2019
Tags: Health
Union Ministry of Health and Family Welfare (MoHFW) is set to roll out rotavirus vaccine in universal immunisation programme across all states by September 2019. This is one of the three 100-day targets identified by Union Health Ministry. As part of the exercise, all 2.6 crore children born in India annually will be eligible to receive free of cost the vaccine that will protect them from diarrhoea..
Current Implementation
The vaccine is currently being administered in Himachal Pradesh, Haryana, Andhra Pradesh, Odisha, Assam, Tripura, Rajasthan, Madhya Pradesh and Tamil Nadu. By September 2019, all remaining 25 states/UTs will be covered under the programme.
Other two 100-day targets set by the ministry: (i) To start a programme for setting up of at least one medical college or postgraduate medical institute — public or private — in every district in the country. (ii) Complete ban on e-cigarettes across the country (Currently nine states — Chandigarh, Punjab, Karnataka, Mizoram, Kerala, J&K, Bihar, Uttar Pradesh and Tamil Nadu have banned sale, manufacture, distribution and import of e-cigarettes).
About Rotavirus
It is a most common causative agent of diarrhea in children.It spreads from person to person due to parasiting and bacterial agents that are primarily transmitted through contaminated food or water. It is responsible for estimated 36% of hospitalisations for childhood diarrhoea around world and for estimated 200,000 deaths in low- and middle-income countries. In India, it kills nearly 80 thousand children under age of 5 years and up to 10 lakh hospitalizations each year (thus, India has highest burden of diarrhea child deaths in the world).