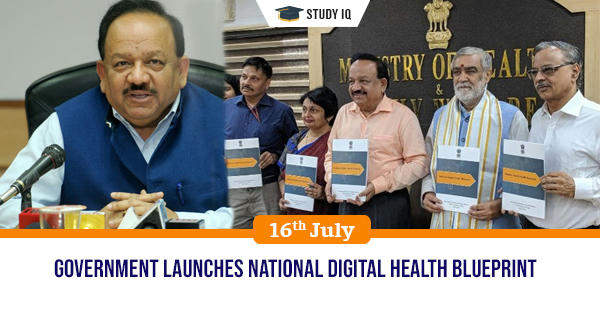 Government launches National Digital Health Blueprint
Date: 16 July 2019
Tags: Health
Union Health Minister Harsh Vardhan National Digital Health Blueprint (NDHB). Its objective is to establish state-of-the-art digital health systems, for managing core digital health data, infrastructure required for its seamless exchange.
About National Digital Health Blueprint (NDHB)
It aims to create national digital health eco-system, in public domain and sought inputs from various stakeholders on its vision.

It seeks to create a system of personal health records, based on international standards and easily accessible to the citizens and healthcare providers

It focuses on providing efficient and affordable health coverage through wide-range of data and infrastructure services by leveraging open digital systems that will ensure security and privacy of personal information,

It will support quality of healthcare, universal health coverage in efficient, accessible, inclusive, affordable, timely and safe manner through provision of a wide range of data, information, and infrastructure services.