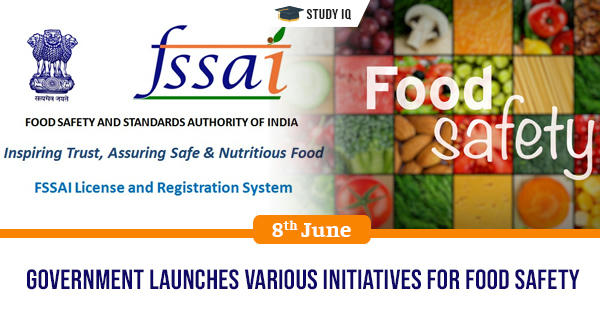 Government launches various Initiatives for Food Safety
Date: 08 June 2019
Tags: Health
Union Minister of Health Harsh Vardhan has launched various initiatives on the occasion of first-ever World Food Safety Day (observed on 7 June 2019). On this occasion top seven leading States/UTs were felicitated based on their ranking for the year 2018-2019 for their impressive performance in food safety. These were Chandigarh, Goa, Gujarat, Kerala, Madhya Pradesh, Maharashtra and Tamil Nadu.
State Food Safety Index (SFSI)
It has been developed by Food Safety and Standards Authority of India (FSSAI) to motivate states to work towards ensuring safe food for citizens.

It will measure the performance of States and rank them on five parameters of food safety viz. (i) Human Resources and Institutional Arrangements, (ii) Compliance, (iii) Food Testing- Infrastructure and Surveillance, (iv) Training and Capacity Building and (v) Consumer Empowerment.
Raman 1.0
It is hand-held battery operated device that can perform rapid detection of economically driven adulteration in edible oils, fats and ghee.

It conducts test in less than 1 minute. It can test more than 250 samples per battery charge, collects and stores data on the cloud using a smart device.

It is first of 19 such equipment and methods that have been provisionally approved by FSSAI for strengthening the food testing infrastructure in the country.
Food Safety Magic Box
It is an innovative solution to take food safety to schools. This do-it-yourself food testing kit comprises manual and equipment to check for food adulterants, which schoolchildren can use in their classroom laboratories. It is also useful for frontline health workers.
Eat Right Awards
It has been instituted by FSSAI to recognize contribution of food companies and individuals to empower citizens to choose safe and healthy food options aimed at helping to improve their health and well-being.
About Food Safety and Standards Authority of India (FSSAI)
It is nodal statutory agency responsible for protecting and promoting public health in India through regulation and supervision of food safety.

It was established under Food Safety and Standards Act, 2006. It functions as autonomous body established under the Union Ministry of Health & Family Welfare.

It is headed by non-executive Chairperson, appointed by Union Government. It is headquartered in New Delhi.

Mandate:

Protect and promote public health through the regulation and supervision of food safety.