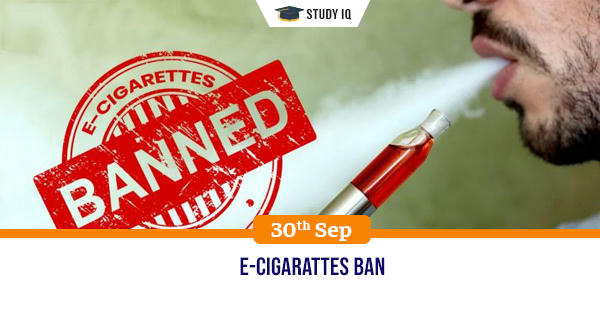 E-cigarattes ban
Date: 30 September 2019
Tags: Health
Issue
The Union Cabinet has approved the promulgation of the Prohibition of Electronic Cigarettes (production, manufacture, import, export, transport, sale, distribution, storage and advertisement) Ordinance, 2019 with immediate effect.
Background
Electronic nicotine delivery systems (ENDS) are non-combustible and non- tobacco products.

E-cigarettes may be manufactured to look like traditional cigarettes and are marketed as tobacco-free nicotine delivery devices.

Instead of burning tobacco leaves like in traditional cigarettes, an e-cigarette, which is a battery-operated device, produces aerosol by heating a solution containing nicotine among other things.

The device contains nicotine and flavours in the form of liquid which is primarily composed of solvents such as glycerol and/or propylene glycol. The aerosol containing a suspension of fine particles and gases simulates cigarette smoke.
Details
People violating the ban will be imprisoned for up to one year or fined up to ?1,00,000 or both for the first offence. Storage of electronic-cigarettes shall also be punishable.
Effects of e-cigarettes
Like traditional cigarettes, e-cigarettes too deliver ultrafine particles and nicotine deep into the lungs, which is then absorbed by the blood.

A study found the use of e-cigarette daily was associated with a 79% increase in heart attack risk after other variables were taken into account.

Nicotine solvents can release in varying amounts potential carcinogens such as acetaldehyde, formaldehyde and acetone.

The liquid-vapourising solutions also contain toxic chemicals and metals that can cause several adverse health effects including cancers and diseases of the heart, lungs and brain.

Exposure to nicotine during adolescence can cause addiction and can harm the developing adolescent brain.

Nicotine harms parts of the brain that control attention, learning, mood, and impulse control.

Nicotine also changes the way synapses or the connections between brain cells are formed.
Implications of the ban
The e-cigarettes are considered one of the most addictive form of vaping due to the flavours used. Banning the product is one such way to avoid its efffect.

Studies have found that adoloscents who try e-cigarettes are more prone to upgrade to conventional cigarettes. This ban can substantially reduce young smokers.