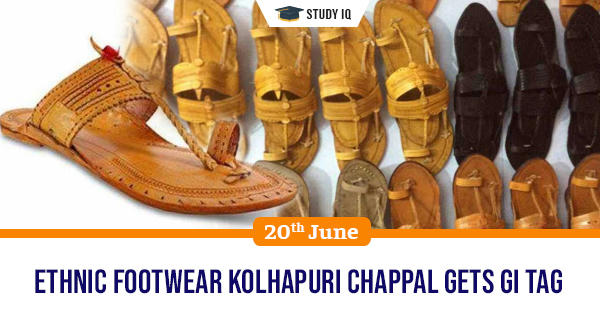 Ethnic Footwear Kolhapuri chappal gets GI tag
Date: 20 June 2019
Tags: Handicrafts
The Controller General of Patents, Designs and Trade Marks has granted popular ethnic footwear Kolhapuri chappals a Geographic Indication (GI) tag across four districts each in Maharashtra and Karnataka. The four districts in Maharashtra are Kolhapur, Solapur, Sangli and Satara and four in Karnataka are Dharwad, Belgaum, Bagalkot and Bijapur.
Significance of GI tag: It brands the footwear made from these select eight districts as 'Kolhapuris' and prohibits usage of term for similar products made in other parts of the country. It will further better the product's domestic and international prospects. It will protect genuine artisans from both states against copy or imitate popular footwear brand illegally.
Kolhapuris
They are hand-crafted leather chappals are tanned using vegetable dyes. There origin can be traced back to 12th-century ruler King Bijjal of Karnataka and his Prime Minister Vishwaguru Basavanna who wanted to uplift the cobbler community. The footwear was traded only in 20th century under Chhatrapati Shahu Maharaj of Kolhapur, where during his rule 29 tanning centres were opened to facilitate trade. The artisans engaged in making these chappals have passed their trade secrets and skills from one generation to another.
About Geographical Indication (GI)
It is name or sign used on products which corresponds to specific geographical location or origin (can be town, region or country).

It acts as authenticity certification that product possesses certain qualities and is made according to traditional methods and enjoys certain reputation due to its geographical origin.

It is accorded to natural, agricultural and manufactured goods (commodity) having special quality and established reputation.

It is covered as element of intellectual property rights (IPRs) under Paris Convention for Protection of Industrial Property.

In India, GI recognition is valid for 10 years after which it needs to be renewed. It is governed and regulated Geographical Indications of Goods (Registration and Protection Act), 1999. This Act is administered by Controller General of Patents, Designs and Trade Marks (under Ministry of Commerce), who is also Registrar of GI.
Benefits of GI: It gives GI accorded products complete exclusivity, ensuring that no one can use their name. It plays very important role to increase realm of market for the original product. It also indirectly leads to sustainable development, boosts exports as well tourism. It enables stakeholders to authenticate their production while earning premium and derive improved livelihood. Its violation is punishable offence under law.