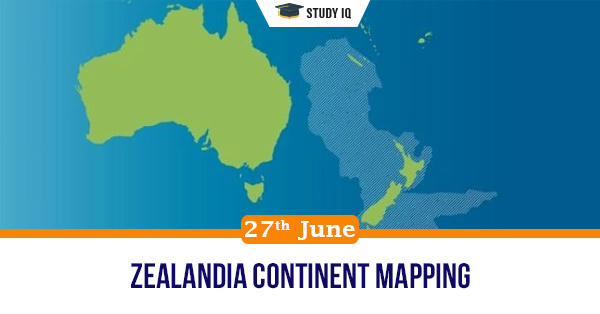 Zealandia continent mapping
Date: 27 June 2020
Tags: Geography & Environment
Issue
Researchers are planning to map the mysterious eighth continent of the Earth, with an aim to raise awareness about it in public.
Background
Zealandia is a 2 million-square-mile continent east of Australia, beneath modern-day New Zealand. Scientists discovered the sprawling underwater mass in the 1990s, then gave it formal continent status in 2017.
Details
Zealandia continent doesn't appear on most conventional maps because almost 95% of its landmass is submerged thousands of feet beneath the Pacific Ocean.

The new maps reveal Zealandia's bathymetry (the shape of the ocean floor) as well as its tectonic history, showing how volcanism and tectonic motion have shaped the continent over millions of years.

These maps to provide an accurate, complete and up-to-date picture of the geology of the New Zealand and southwest Pacific area, better than before.
Zealandia continent
Zealandia, also known as the New Zealand continent or Tasmantis, is an almost entirely submerged mass of continental crust that subsided after breaking away from Gondwanaland 83–79 million years ago.

It has variously been described as a continental fragment, a microcontinent, a submerged continent, and a continent.

Compression across the boundary has uplifted the Southern Alps, although due to rapid erosion their height reflects only a small fraction of the uplift.

Volcanism on Zealandia has also taken place repeatedly in various parts of the continental fragment before, during and after it rifted away from the supercontinent Gondwana.

Zealandia consists of islands such as New Zealand, New Caledonia, Norfolk Island, Lord Howe Island Group, Elizabeth and Middleton Reefs.