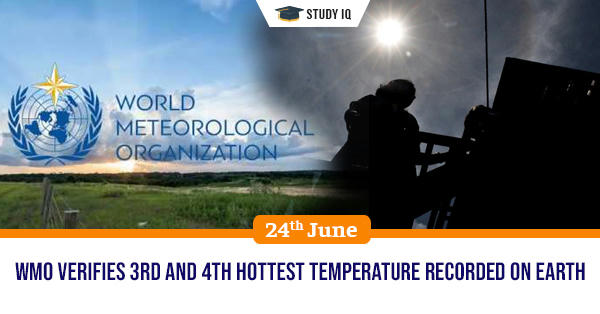 WMO verifies 3rd and 4th hottest temperature recorded on Earth
Date: 24 June 2019
Tags: Geography & Environment
World Meteorological Organization (WMO) Archive of Weather and Climate Extremes has officially evaluated temperature record extremes of 54.0 °C at two locations viz. Mitribah, Kuwait on 21 July 2016 and in Turbat, Pakistan on 28 May 2017 as 3rd and 4th hottest temperature recorded on Earth. The verified temperatures in Mitribah was 53.9 °C (± 0.1 °C margin of uncertainty) and in Turbat as 53.7 °C (± 0.4 °C). Mitribah, Kuwait temperature is now accepted by WMO as the highest temperature ever recorded for the continental region of Asia.
WMO Archive of Weather and Climate Extremes
It maintains official records of the world, hemispheric and regional extremes associated with a number of specific types of weather. Presently, it lists extremes for temperature, pressure, rainfall, hail, wind, and lightning as well as two specific types of storms, tornadoes and tropical cyclones.
Record Temperatures
The two observations are third and fourth highest WMO-recognized temperature extremes. They are also highest, officially-recognized temperatures to have been recorded inlast 76 years. The hottest temperature ever recorded was in Furnace Creek, Death Valley, California (US) at 56.7°C on 10 July 1913. India's highest ever temperature, was too recorded recently in Phalodi, Rajasthan at 51°C in May 19, 2016.