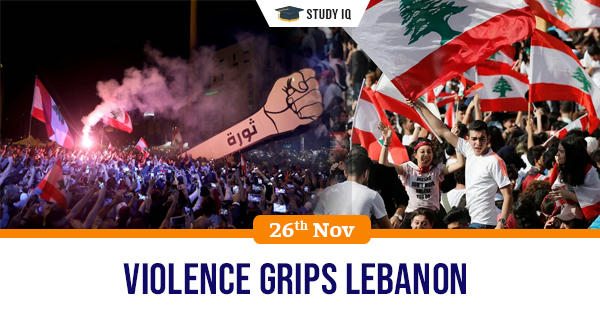 violence-grips-lebanon
Date: 26 November 2019
Tags: Geography & Environment
Issue
Clashes between supporters of Lebanon's caretaker prime minister, Saad al-Hariri, and Shi'ite groups Hezbollah and Amal have erupted into gunfire in Beirut.
Background
The clashes marked the second consecutive night of violence linked to Lebanon's political crisis, threatening to grip largely peaceful demonstrations that were directed towards the country's elite ruling class.
Details
The protests that have swept Lebanon since Oct. 17 are fuelled by deep resentment for a ruling class seen as involved in corruption and having driven the economy into crisis.

Supporters of Amal and the heavily armed Hezbollah have occasionally sought to break up the demonstrations and clear roads cut off by protesters.
Lebanon
Lebanon officially known as the Lebanese Republic is a country in Western Asia. It is bordered by Syria to the north and east and Israel to the south, while Cyprus is west across the Mediterranean Sea.

It is the smallest recognized sovereign state on the mainland Asian continent.

Lebanon has the highest Human Development Index and GDP per capita in the Arab world outside of the oil-rich economies of the Persian Gulf.

Lebanon has been a member of the United Nations since its founding in 1945 as well as of the Arab League (1945), the Non-Aligned Movement (1961), Organisation of the Islamic Cooperation (1969) and the Organisation internationale de la francophonie.

Capital: Beirut

Currency: Lebanese pound

President: Michel Aoun

Prime Minister: Saad Hariri